Crude prices up over 2% on rising US oil demand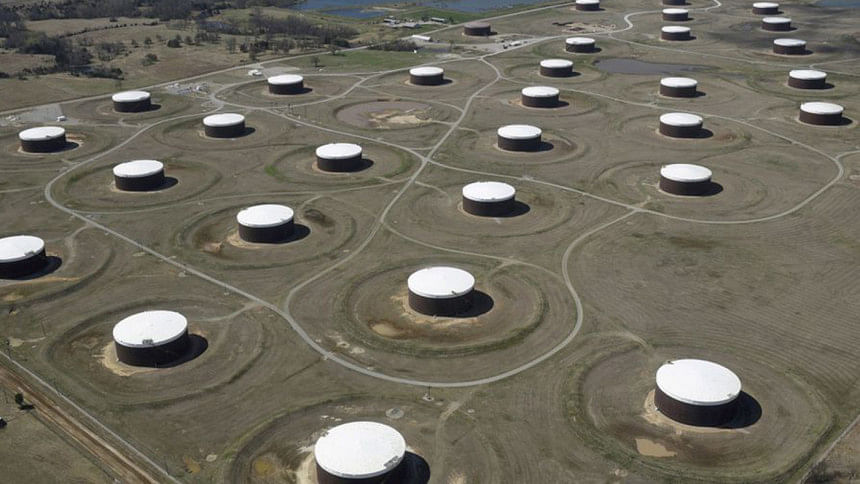 Oil prices mostly rose over 2 per cent on Friday after energy firms posted positive earnings and US data showed crude output was declining while fuel demand was growing.
On its last day as the front-month, Brent futures for June delivery rose $1.17, or 1.5 per cent, to settle at $79.54 a barrel, while the more actively traded July contract jumped 2.7 per cent to settle at $80.33.
US West Texas Intermediate (WTI) crude rose $2.02, or 2.7 per cent, to settle at $76.78.
Despite the daily gains, Brent and WTI both declined for a second week in a row, with Brent posting a fourth straight monthly decline as disappointing US economic data and uncertainty over interest rates weighed on the demand outlook.
"The market was down much of the week on worries about a looming economic recession and an expansion of the banking crisis with First Republic," said Phil Flynn, an analyst at Price Futures Group.
"But, today there were headlines showing there may be a solution to the First Republic problem, and there was data pointing to a rise in oil demand and a decline in output," Flynn said.
US officials are coordinating urgent talks to rescue First Republic Bank (FRC.N), as private-sector efforts led by the bank's advisers have yet to reach a deal, according to three sources familiar with the situation.
The US Federal Deposit Insurance Corp (FDIC), the Treasury Department and the Federal Reserve are among government bodies that have started to orchestrate meetings with financial companies about a solution for First Republic, the sources said.
US crude production fell in February to 12.5 million barrels per day (bpd), its lowest since December. Fuel demand rose to nearly 20 million bpd, its highest since November, according to the Energy Information Administration (EIA).
EIA data this week showed US crude oil and gasoline inventories fell more than expected last week as demand for the motor fuel picked up ahead of the peak summer driving season.
The number of rigs drilling for oil in the US was unchanged this week at 591, but inched down by one in April in their fifth monthly decline, energy services firm Baker Hughes Co (BKR.O) said.
Supply of the five North Sea crude oil grades underpinning the dated Brent benchmark will average about 607,000 bpd in June, compared with 696,000 bpd in May, implying a 13 per cent fall, loading programs showed.
Oil companies Exxon Mobil Corp (XOM.N) and Chevron Corp (CVX.N) have enjoyed strong demand and held the line on cost-cuts implemented during COVID-19 lockdowns.
Crude prices have declined in recent weeks and months due to worries that interest rate hikes that could reduce demand.
Brent declined about 3 per cent this week after falling about 5 per cent last week, while WTI slid about 1 per cent this week after losing about 6 per cent last week.
For the month, Brent slid less than 1 per cent in April, while WTI gained about 1 per cent. That was the first monthly increase in WTI prices in six months.
US consumer spending was unchanged in March, but persistent strength in underlying inflation pressures could prompt the Fed to hike rates again next week to slow inflation, feeding fears of a possible recession.