Construction financing soars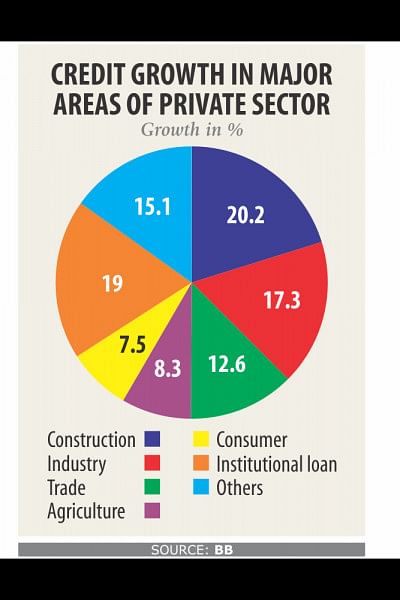 The banking sector has bumped up its lending to the construction sector on the back of the government's mega project implementation spree.
As of September last year, credit flow to the construction sector stood at Tk 80,000 crore, up 20.24 percent from a year earlier, according to data from the central bank.
The segment accounted for 9.44 percent of the total outstanding loans in the private sector.
"Construction financing has been rising for the last two years as the government is implementing a number of mega infrastructure projects," said MA Halim Chowdhury, managing director of Pubali Bank.
The mega infrastructure projects now under implementation are: Padma bridge, Rooppur nuclear power plant, Payra deep seaport, Dhaka-Chattogram elevated expressway, Dhaka metro rail, and Karnaphuli River Tunnel.
Banks too are keen on lending to the sector as the default loan ratio is low, Chowdhury said, adding that credit is being offered to contractors who have bagged the government's work orders for infrastructure projects.
Lenders are also enjoying 10 to 13 percent interest from their loans to the construction sector in contrast to 8 to 10 percent from the agriculture and other major sectors.
"In most of the cases, contractors adjust their loans soon after they get funds from the government, which helps banks earn quick profits," Chowdhury said. Construction financing also registered the highest growth among the major sectors, according to data from the Bangladesh Bank.
As of September, credit growth to the industrial sector stood at 17.30 percent, trade and commerce 12.6 percent, agriculture 8.3 percent and consumer at 7.5 percent.
Lenders also get an exuberant commission from contractors as they have to require bank guarantee to secure deed from tender floated by the government, said Md Arfan Ali, managing director of Bank Asia.
After securing the deed, contractors need advance payment guarantee from banks to proceed with the projects, which also offer a robust commission to lenders.
The credit tenure of construction financing is between 1 and 2 years, so it helps banks get their money back at the earliest, Ali said.
"Construction financing has appeared as a blessing for lenders at a time when the private sector credit growth has been on a downward trend," he said.
Financing for infrastructure projects will soar in the years to come as the government will implement a host of projects to enable Bangladesh to become a developed country by 2041, said Faruq Mainuddin Ahmed, managing director of Trust Bank, which has already disbursed significant amount of infrastructure loans.