BSRM Steel to set up Tk 700cr plant
The MS rod unit will begin production in 2023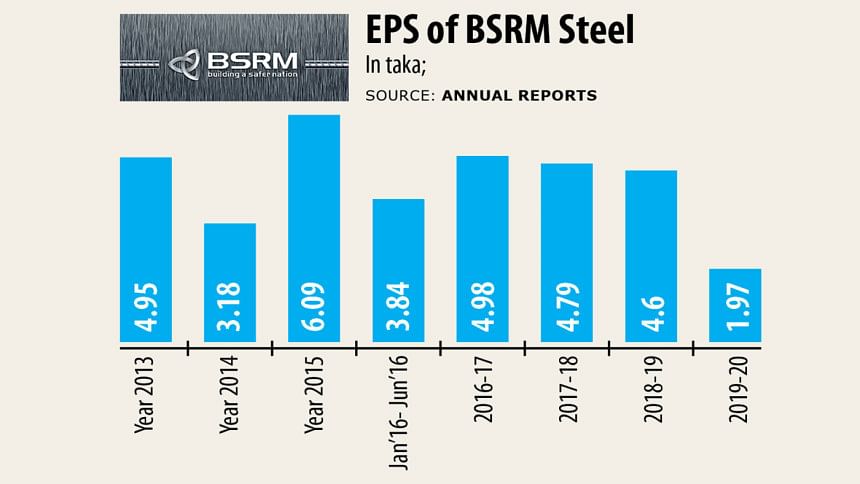 BSRM Steel has decided to set up a Tk 700 crore plant to raise annual MS rod production capacity by another 5 lakh tonnes to meet its growing market demand.
The Chattogram-based listed steel maker is expected to start operation of the new production unit by the middle of 2023.
The investment fund would come from bank loans and own sources, according to the data shared by the leading steel maker with the stock investors of Dhaka and Chattogram stock exchanges yesterday.
The paid-up capital of the listed steel maker was Tk 375 crore while its reserve and surplus was Tk 1,044 crore at the end of the fiscal year that ended on June 30 of 2019.
On the other hand, the company's short-term loan was Tk 2,275 crore and long-term loan amounted to Tk 906.79 crore.
At present, BSRM Steel is producing 2 million tonnes of MS billet and 1.6 million tonnes of re-rolling steel per year.
Consumption of steel has been rising for the last few years riding on the increasing gross domestic product (GDP) of the country.
Moreover, the government's development projects have left a positive impact on the nearly Tk 50,000 crore industry, according to market players.
At present, government projects account for 35 per cent to 40 per cent of the total steel consumption in Bangladesh, up from 15 per cent a decade ago.
The country's annual steel production capacity was 8.58 million tonnes in 2018 when total consumption was 7 million tonnes.
Although per capita steel consumption in Bangladesh almost doubled in eight years to over 45 kilogrammes in 2018, the figure was still much lower than the global average of 208 kgs, according to the World Steel Association.
The figure stands at 65 kgs in India, 400 kgs in South Korea and 1,000 kgs in Japan. To meet the spiralling demand, other steel makers are also increasing their production capacity.
GPH Ispat, another listed steel manufacturing company, had already started its new Tk 2,390 crore plant on a trial basis.
The new factory of GPH Ispat has the annual capacity to produce 840,000 tonnes of MS billet and 640,000 tonnes of MS rod and medium section products.
Despite the news of the new investment yesterday, share price of BSRM Steel listed with the DSE since 2009 dropped 0.51 per cent to Tk 39.20.
The steel maker also informed yesterday that its board of directors recommended 15 per cent cash dividend for the year that ended on June 30 of 2020.
The company's earnings per share (EPS) was Tk 1.97 for the current year, down from Tk 4.60 in the previous year.
The company blamed the fall in EPS on the reduced production and slow sales after the Covid-19 outbreak along with various tax issues.