Banglalink's revenue hits 4-year low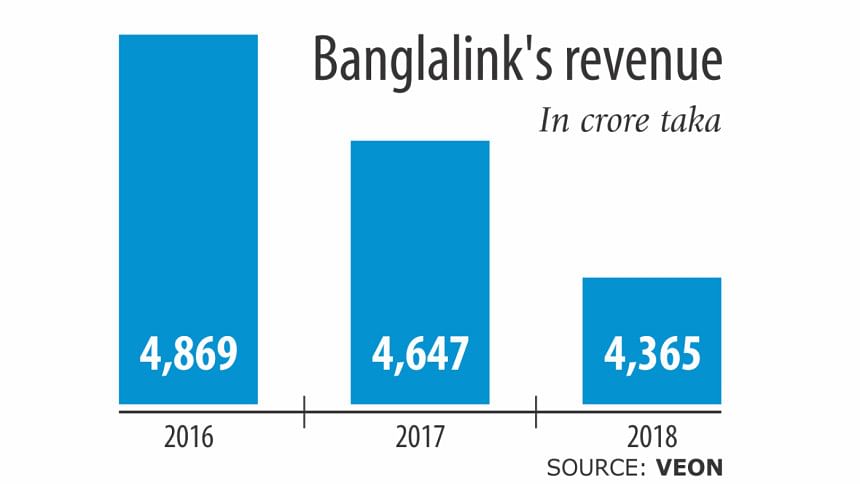 Banglalink's revenue fell 6.46 percent year-on-year to Tk 4,365 crore in 2018, the lowest in four years.
In 2018, the operator invested Tk 3,524.16 crore—highest in the last one decade—to acquire more spectrum, get tech neutrality and expand 3G network and for licence and expansion of 4G network.
The company's revenue has been declining for the last three consecutive years, according to the financial statement of Veon, the parent entity of Bangladesh's third largest mobile operator.
Banglalink is seeing the first signs of recovery, as its revenue increased 1.29 percent year-on-year to Tk 1,096 crore in the October-December quarter of 2018, said Abu Nazam Tanveer Hossain, head of public and digital policy at the operator.
Notwithstanding continued intense competition in the market with a specific focus on customer acquisition, Banglalink continued to focus on acquiring customers in the last quarter of 2018, Veon said in its report.
"The regulatory environment remains challenging and limits customer growth in the market."
"However, we have seen in the October-December quarter of last year that the government has taken a few steps to ensure a better environment for competition," said Hossain.
The operator's revenue per customer in a month is continually declining and at the end of 2018 it stood at Tk 110, which was Tk 133 in 2016, according to the financial statement.
At the end of 2018, the number of active mobile connections hit 3.23 crore, of which 60.68 percent or 1.96 crore are active on mobile internet.
Banglalink's data revenue rose 14.94 percent year-on-year to Tk 725 crore last year, but the growth did not give any boost to the operator's total revenue. The telecom operator's customers were found consuming 1,024 megabytes of data per head at the end of 2018, which was 580 MB at the end of 2017.
The financial statement also highlighted that the revenue in three other markets of the Amsterdam-based Veon—Uzbekistan, Algeria and Pakistan—hit three-year lows in the October-December period of 2018.