Bangladesh's position remains unchanged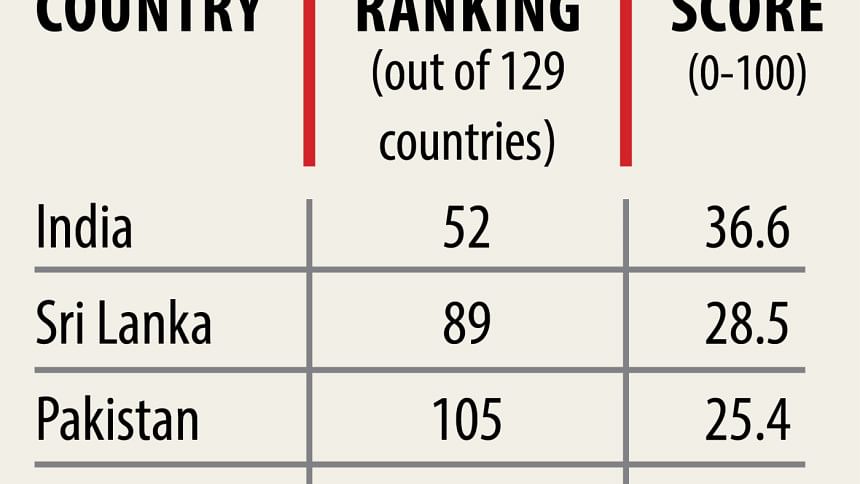 Bangladesh was placed 116th out of 129 countries in this year's Global Innovation Index, unchanged from last year's ranking. 
The country scored 23.31 in 100 in a survey of innovative capacity of the countries by the World Intellectual Property Organisation (WIPO).   
In South Asia, India was placed 52nd, Sri Lanka 89th, Pakistan 105th and Nepal 109th, showed the survey report, which was released in New Delhi on Wednesday.
The GII, in its 12th edition this year, is co-published by Cornell University, INSEAD, and the WIPO, a specialised agency of the United Nations.
Published annually since 2007, the GII is now a leading benchmarking tool for business executives, policy makers and others seeking insight into the state of innovation around the world.
The GII 2019 shed light on economies based on 80 indicators, from traditional measurements like research and development investments and international patent and trademark applications to newer indicators including mobile-phone app creation and high-tech exports.
Bangladesh was ranked 124th on institutions pillar, 127th on human capital and research, 86th on infrastructure, 96th on market sophistication, 120th on business sophistication, 91st on knowledge and technology outputs, and 115th on creative output.
Switzerland is the world's most innovative country for a second consecutive year, followed by Sweden, the United States, the Netherlands, the United Kingdom, Finland, Denmark, Singapore, Germany and Israel.
The GII 2019 also looks at the economic context: Despite signs of slowing economic growth, innovation continues to blossom, particularly in Asia, but pressures are looming from trade disruptions and protectionism.
Sound government planning for innovation is critical for success, the report shows. "The GII shows us that countries that prioritise innovation in their policies have seen significant increases in their rankings," said WIPO Director General Francis Gurry in a statement. 
"The rise in the GII by economic powerhouses like China and India has transformed the geography of innovation and this reflects deliberate policy action to promote innovation."
For the first time, the GII was hosted by the government of India, which uses the GII in creative ways to strengthen its policy framework for innovation at both the national and regional levels.