Bangladesh should go for PTA with Latin American trade bloc
Suggested an Argentine diplomat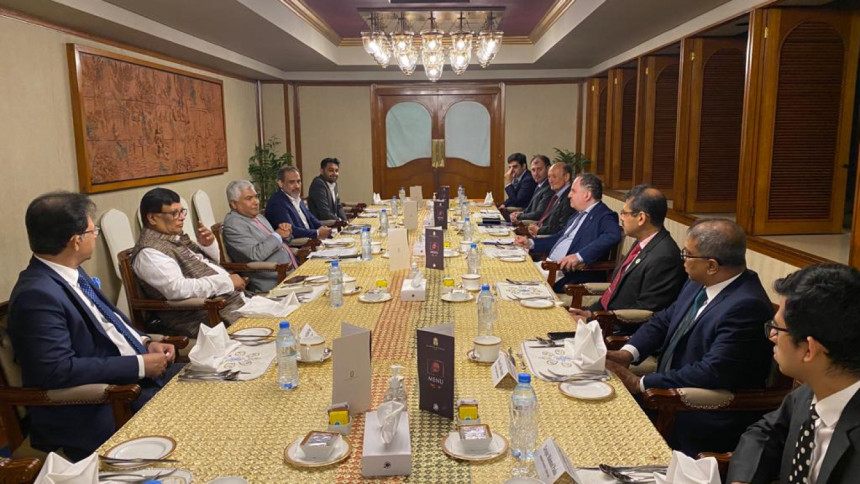 Bangladesh should go for signing a preferential trade agreement (PTA) with the MERCOSUR, a trade bloc of Brazil, Argentina, Paraguay and Uruguay, since negotiations over a free trade agreement might take a long time, said a diplomat from Argentina.
PTA takes a much shorter period, said Hugo Gobbi, ambassador of the Argentine Republic to India, Bangladesh, Nepal, Bhutan, Sri Lanka and the Maldives, according to a press release of the Federation of Bangladesh Chambers of Commerce and Industry (FBCCI) today.
His comments came during a meeting between Md Jashim Uddin, president of the FBCCI, and Claudio Rozencwaig, undersecretary of foreign policy of the ministry of foreign affairs and international trade of Argentina, in Dhaka.
Rozencwaig, who was leading an Argentine delegation, also expressed interest in boosting bilateral relations on all fronts.
At the meeting, Jashim sought the support of Argentina to expedite the process of signing an FTA between Bangladesh and the MERCOSUR to harness the trade potential between the two sides.
The region is equipped with significant dynamic markets and it can source quality products from Bangladesh, including processed food, pharmaceuticals, plastic, ceramic and ready-made garment at competitive prices, the FBCCI president said.
Bangladesh is working to sign pacts with trading partners since the country is set to lose duty-free market access once it graduates from the grouping of the least-developed countries in 2026. It would have to ink trade deals with countries and regional blocs to keep commerce up and running.
In its first, Bangladesh struck a PTA with Bhutan on December 2020.
Franco Agustín Senilliani Melchior, head of the economic and trade section of the Argentine embassy in India, said textiles are one of the major import items of Argentina which the country sources from other Asian countries.
Bangladesh should also consider the country as a potential market for textile and plastic items, Melchior said in the press release.
Mariano Beheran, an agricultural attaché of the embassy, said Argentina can provide agriculture technology and know-how support, including seed technology to increase Bangladesh's capability in the sector.
He also suggested that Bangladesh import cotton, milk powder and garlic from Argentina.