7,000 Benapole-bound trucks stranded as export activities suspended at Petrapole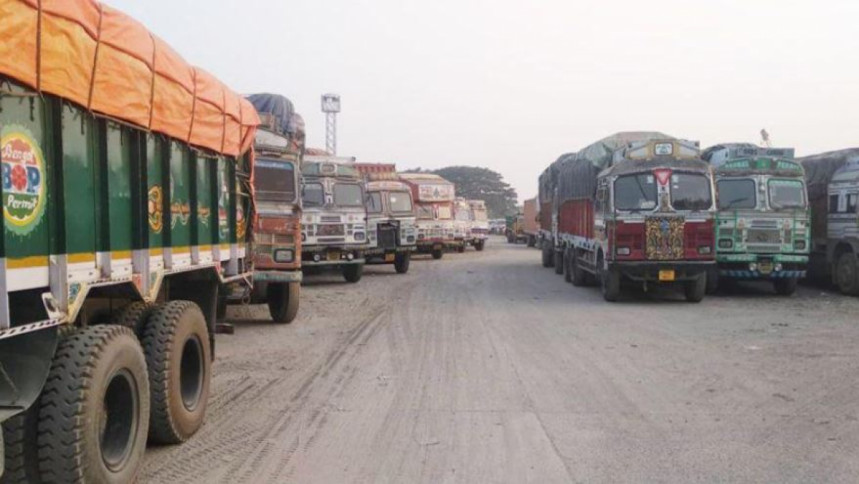 Indian businessmen have suspended export activities at Benapole land port. No goods-laden truck entered Bangladesh from Benapole land port since this morning.
However, the export of goods from Bangladesh to India continues, reports our Benapole correspondent.
"India's Border Security Force (BSF) personnel at the Petrapole land port on the Indian side of the border did not the Indian businessmen to continue export activities without identification of documents from the customs and land port authorities on Saturday," said Kartik Chandra, general secretary of India's C&F Agents-Staff Association.
"No goods-laden truck was allowed to enter from Petrapole side to Benapole from 8:00 am till 4:00 pm on Saturday, and all export activities were stopped," he said.
"We have always been carrying out export activities with identification documents from our associations," he added.
"Due to this situation, we kept export activities suspended today after holding discussion between all stakeholders," he also said.
Around 7,000 goods-laden trucks are stranded at Petrapole land port since Saturday morning, .Kartik also said.
Abdur Rashid Mia, joint commissioner at Benapole Customs House, confirmed the development to The Daily Star.
Export activities from Bangladesh to India is continuing, the customs official said. All customs and land port activities are going on normally, he added.