Navana launches Corolla Altis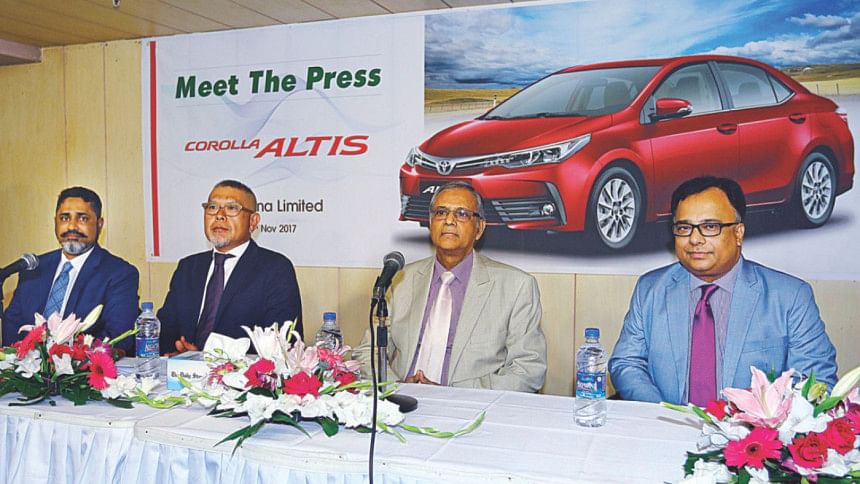 Navana Limited and Toyota yesterday launched Corolla Altis, a brand new car and the 11th generation in the corolla family, in the Bangladesh market targeting mostly high-value customers.
JA Naser, director of Navana Limited, introduced the car at a programme at The Daily Star Centre in Dhaka, while Takeshi Sugimoto, general manager of Toyota Tsusho Corporation, was present.
Altis has a 1,600cc dual VVT-1 engine combined with advance safety features with a price tag of Tk 39 lakh.
The car has a unique look leaving behind the traditional exterior and will be suitable for this market, said Mohammad Hamdur Rahaman, general manager and head of operations of Navana Limited.
Describing the special features of Corolla Altis, Rahaman said it would consume less fuel, has a vehicle stability controller and would ensure luxury and comfort, making it different from others, even in the Toyota family.
Navana joined hands with Toyota in 1964 and from then imported a good number of brand new Toyota cars and Hino buses which are especially designed for Bangladesh.
Rahaman said it was the first time in Toyota cars in Bangladesh that they were offering a 10-inch GPS enabled monitor facilitating proper navigation, internet surfing and many other visually beneficial features.
"Customers can easily avoid heavy traffic roads by using GPS and Google maps through this monitor," said Rahaman.
Corolla Altis has inherited durability and reliability from its previous generations and has gone beyond the existing grade, officials said.
Navana also said the car, which weighs 1,635 kilogrammes and will be available in seven colours, has better cooling performance and low emission. Md Shahood Mustansir, head of sales, and senior executives of Navana were present.