National, Islami in desperate bid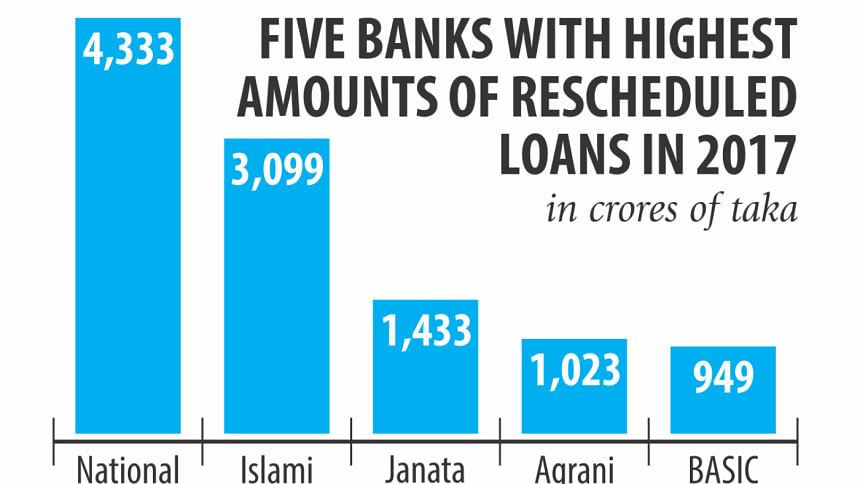 National Bank and Islami Bank Bangladesh went on a loan rescheduling spree in 2017, in what can be viewed as a stunning example of financial engineering to cover up their ailing financial health.
Of the Tk 19,120 crore rescheduled by the 57 banks in 2017, the two first-generation banks accounted for 39 percent. National Bank rescheduled Tk 4,333 crore and Islami Bank Tk 3,099 crore.
In a brazen move, National rescheduled Tk 4,011 crore in the final quarter of 2017 without following Bangladesh Bank instructions properly.
As per BB rules, to reschedule a loan a bank must take 5 to 15 percent as down payment for the outstanding loans. The down payment requirement will increase to 50 percent if the defaulted loan is rescheduled for the second or third time.
In case of a waiver from down payment or relaxing the repayment period, a bank must take prior approval from the BB for rescheduling the loan.
National had taken the BB's permission to reschedule a maximum of Tk 500 crore, meaning it rescheduled an additional Tk 3,511 crore in the final quarter of last year, according to BB officials.
But in so doing, National was able to slash its total default loans down to Tk 1,611 crore from Tk 3,027 crore a quarter earlier. And with it, its provisioning requirement also lessened.
Still it was not enough to prevent National from logging in a 14.44 percent decline in net profits from a year earlier: Tk 479.82 crore.
Furthermore, National Bank did not even provide the central bank with the data on rescheduled loans even when a detailed inspection of the bank's financial health was conducted in December last year.
"We are completely in the dark," said the central bank official. The Daily Star could not contact Choudhury Moshtaq Ahmed, managing director of National Bank, as he is in Singapore for treatment.
Later, the correspondent contacted ASM Bulbul, the bank's deputy managing director, but he declined to comment on the matter.
Islami Bank usually reschedules non-performing loans in the last quarter of a year to book higher profit by averting provisioning against bad loans, said Abu Reza Md Yeahia, deputy managing director of the bank.
"We have rescheduled the loans following the central bank's rules," he said.
In 2016, all 57 banks operating in Bangladesh had rescheduled NPLs amounting to Tk 15,417 crore.
Despite huge loan rescheduling, NPLs in the banking sector surged 19.51 percent year-on-year to Tk 74,303 crore last year.