Mutual fund penetration abysmally low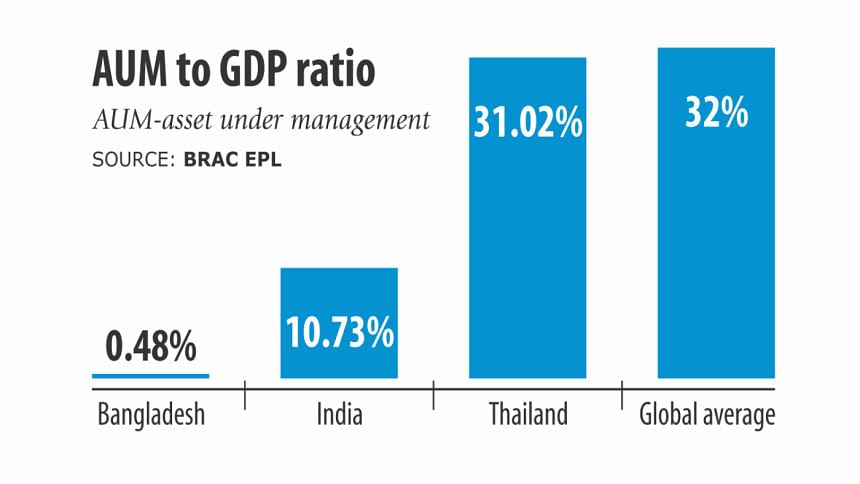 Bangladesh has among the lowest mutual fund investment in the world, offering a vast untapped opportunity for local asset managers.
A mutual fund is an investment fund that gathers capital from a number of investors to create a pool of money that is then re-invested into stocks, bonds and other assets. Investors are effectively shareholders in the fund in proportion to their investment.
Bangladesh's asset under management to gross domestic product ratio is a mere 0.48 percent, according to Brac EPL. In contrast, the ratio is 10.73 percent in India and 31.02 percent in Thailand. The global average is 32 percent.
Mohammed Rahmat Pasha, managing director and chief executive of UCB Capital Management, blamed the Bangladeshi fund managers' poor performance for the abysmally low ratio.
For instance, in 2017, 15 of the 37 listed mutual funds declared dividends of 2.5 percent to 10 percent, according to statistics from the Dhaka Stock Exchange.
This is lower than the returns on banks' fixed deposit products, Pasha said. "Why will people invest in mutual funds if the dividend rate is less than the FDR rate?"
In the last two years, fund managers declared comparatively better dividends. But before that, almost every fund manager had declared 5 to 8 percent dividend, which was less than the FDR rate then.
"There is a lack of confidence in fund managers," said Abu Ahmed, an honorary professor of Dhaka University.
Besides, Bangladeshi general investors tend to gravitate towards stocks -- a departure from their global counterparts, who typically opt for mutual funds.
This leaves only the institutional investors, which are the banks and non-bank financial institutions in Bangladesh.
But the local banks and NBFIs are not in a position to invest in mutual funds because of their large capital market exposure that is grazing dangerously close to the ceiling set by the Bangladesh Bank, according to Pasha.
Bangladesh's investment culture is not mutual fund-friendly, said Yawer Sayeed, MD and CEO of AIMS, the country's first private-owned investment and fund management company.
Another high official of an asset management company said, while requesting anonymity, that many fund managers got licences thanks to the influence of politics, which is why they are struggling to register attractive returns.
Fund managers' fee limitations are also not suitable for hiring competent personnel, he said.
"Simply, if the fund managers manage better dividends, people will automatically hover to mutual funds," Pasha added.