Muhith defends licence for three new banks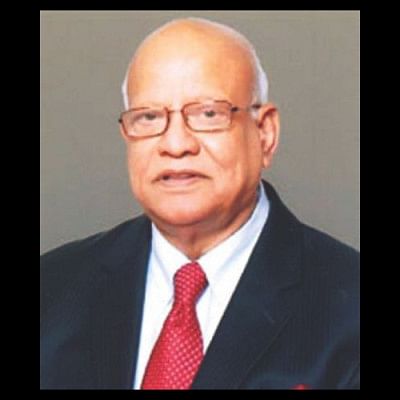 Finance Minister AMA Muhith has defended setting up more new banks in the private sector even though the newly opened lenders are struggling to stay afloat and the economists are vehemently opposed to the move.
The Bangladesh Bank is wrapping up the preliminary processes for issuing licences to two more banks following recommendation from the finance minister himself.
Muhith yesterday told reporters that the government is in fact mulling over giving permission to three new banks in an already over-saturated landscape.
Asked about the rationale behind the approval for the new banks when many existing ones are struggling, Muhith said: "There are provisions for mergers and liquidation of banks, so the existing banks can do that."
"Despite giving licences to so many banks there is still a huge unbanked area. We are not very advanced that way in banking," he said after a function organised by the Bangladesh Insurance Association yesterday at the Dhaka Club.
In September, the Bangladesh Bank had turned down requests for licence for two new banks on the ground that financial health of many banks, especially the nine newest ones, was deteriorating and that there was no need for new banks.
But on November 15, the finance ministry requested the BB to issue licences to the two banks.
One of the proposed banks is Bengal Bank, initiated by Bengal Group of Industries, a local manufacturer of plastic products. Morshed Alam, a ruling party lawmaker, is the chairman of the group.
The other bank is People's Islami Bank, proposed by MA Kashem, an Awami League leader living in the US.
When asked about the other bank that stands to get the licence, Muhith did not give any name, but finance ministry sources said the bank is for the police force.
In 2009, after Awami League formed the government, nine banks were given the permission on political consideration despite opposition by the central bank and other quarters.
After four years of operation the financial condition of two banks including Farmers Bank started deteriorating. Now the BB has taken an initiative to change the management of the bank.
The health of the banking sector has worsened further since 2013, said Ahsan H Mansur, executive director of the Policy Research Institute and a former top official of the International Monetary Fund. "The government should learn from the past. Allowing any new bank will not bring any good to the financial sector."
He claimed that the BB had issued licences to nine banks in 2013 considering the political background of the owners and despite severe criticism from different quarters.
"57 banks are too many for Bangladesh -- the weaker banks should merge with stronger ones," he added.
Mustafizur Rahman, distinguished fellow at the Centre for Policy Dialogue, said the government and the BB should rather focus on reforms and establishing discipline in the banking sector.