Mirsarai Economic Zone in fast lane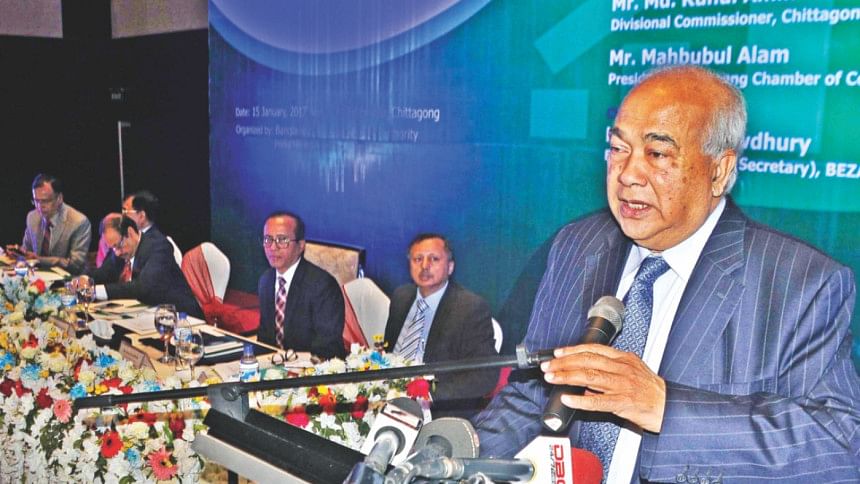 The regulator will start handing over industrial plots at Mirsarai Economic Zone to prospective entrepreneurs from both home and abroad in the next one year.
Tariff on the land has already been approved at a governing body meeting of Bangladesh Economic Zones Authority on January 5, and the prime minister will sign the meeting minutes in the next few days, Paban Chowdhury, executive chairman of Beza, said yesterday.
"We will then initiate the process of allocating the plots," Chowdhury said at a seminar on investment promotion for the economic zones of Chittagong and Cox's Bazar, at Radisson hotel in Chittagong.
Mirsarai Economic Zone is going to be the biggest in this region and should be kept free of interference from any quarter, he said.
"If we cannot ensure security in this economic zone, all investors -- foreign and local -- would be frustrated."
Many large Chinese and Japanese firms in power, petro-chemical and steel sectors are keen on investing in the economic zones in Bangladesh, he said.
"Apart from providing security, we would also need to ensure infrastructural development, uninterrupted electricity, gas and industrial water supplies."
On the ongoing infrastructure development in the 30,000-acre Mirsarai zone, Chowdhury said: "Last year we developed 550 acres of land in the first phase. We are now developing another 1,300 acres in the second phase."
The construction of seven kilometres out of a 29km four-lane road inside the zone is ongoing, while the tender for a 10km road has been floated. A tender was floated for a 10km four-lane approach road to be built from Dhaka-Chittagong highway to the Mirsarai zone involving around Tk 130 crore.
"We will construct another 18.5km two-lane marine driveway with protection embankment from Sonagazi to Sitakunda involving Tk 1,163 crore," Chowdhury said.
An exclusive tourism park will be developed on Jaliardwip Island on the Naf River. It would be Bangladesh's next tourist destination, which will have cable cars, hanging bridges, resorts and other facilities.
Bai Yinzhan, vice-president of China Harbour Engineering Company, which is developing Chinese Economic and Industrial Zone on around 774 acres in Anwara upazila, presented a paper on Chinese investment in the zone.
He hoped that labour intensive industries such as textiles and apparel, electrical and electronics, automobile related products, machinery and chemical products would be set up in the Anwara zone.
Development of the zone would take place in three phases at a cost of $187.05 million and it would be completed by 2028, he added. China Harbour is currently constructing an access road to the CEIZ, and it may sign a formal investment agreement and concession agreement by the first half of this year.
Housing and Public Works Minister Mosharraf Hossain, Chittagong Divisional Commissioner Ruhul Amin, Chittagong Deputy Commissioner Shamsul Arefin and Chittagong Chamber of Commerce and Industry President Mahbubul Alam also spoke. Junichiro Motoyama, team leader of the Project for Development of Economic Zones and Capacity Enhancement of Beza, Md Mizanur Rahman, director (commercial) of Bangladesh Parjatan Corporation, and Beza Manager Md Shoheler Rahman Chowdhury presented separated keynote papers at the seminar.
An economic zone is a designated area in a country with special economic regulations that differ from the rest of the country. An entrepreneur can enjoy various benefits, including tax incentives from the authorities, by setting up an industrial unit in an economic zone.
Beza has been working to set up 100 economic zones by 2030, which will create jobs for one crore people and produce goods and services worth $40 billion. It has identified 74 locations across the country for setting up economic zones.