From Meherpur to Europe
250 tonnes of mangoes from the district selected for export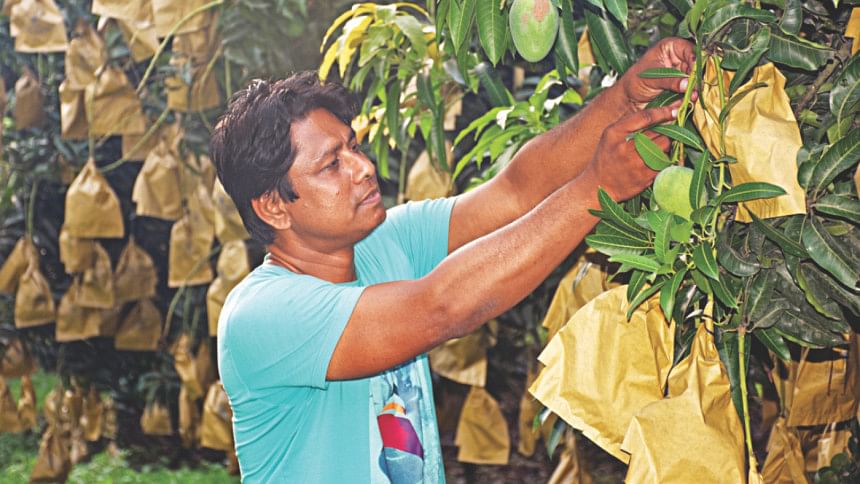 Joy knows no bounds for some 70 mango growers from Meherpur, who would be sending 250 tonnes of the tropical summer fruit to Europe this year.
Neck-deep with the tasks of plucking and packing the Himsagar variety of mangoes, but there is no sign of fatigue in their deportment.
"I am expecting a handsome return," said Saidur Rahman Shahin, a mango grower from Jhaubaria village in Meherpur who is hoping to earn Tk 8.50 lakh from his efforts.
Shahin is one of the 70 growers who entered into deals with the Bangladesh Export Association and the Department of Agricultural Extension to send mangoes abroad.
The DAE imparted good farming management techniques to the growers and also guided them throughout the process such that the yields meet export standards.
Using the fruit bagging technique Shahin farmed mangoes on 30 bighas of land, from which 2 lakh pieces have been selected for export, triple the number from last year.
"This year's yield is better than ever before," said Mustafizur Rahman, deputy director of the DAE in Meherpur.
The quality of Himsagar mangoes from the district is superlative, said Mofizur Rahman, a representative of the Bangladesh Export Association.
"The mangoes were tested by foreign buyers and they have appreciated it very much," he added.
Rahman of the DAE said Meherpur's land is conducive to cultivation of high-quality Himsagar mangoes.
The district's mango growers have now urged the government to come up with more initiatives such that they can get first-rate yields for export on a consistent basis.
 "I am dreaming of cultivating world-class mangoes on 100 bighas of land next season," Shahin said, while seeking the government's help in entering the Chinese market.
The district has mango orchards spanning 20,000 hectares, 15,000 hectares of which are dedicated to the Himsagar variety, according to the DAE.
"All kinds of necessary help will be provided to the mango growers in the district," the DAE's Rahman added.