Make better use of infrastructure
Remy Prud'homme of Paris University says in an interview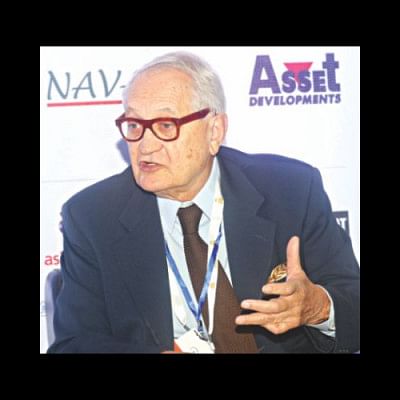 Bangladesh has failed to showcase its successes to the western world, said Remy Prud'homme, professor emeritus of the University of Paris.
"Bangladesh should make an effort to make itself better known to other parts of the world," Prud'homme said in an interview yesterday.
Prud'homme, 80, who has vast experience in infrastructure, visited Bangladesh for the first time as a speaker at a conference on economy, at Radisson Hotel in Dhaka.
He admitted that he did not know much about Bangladesh before coming here.
"Everybody in France is completely ignorant about Bangladesh. At best, the French have an image that it's a poor country and people die from poverty, which was a fact 20 years ago," he said.
He believes the same image of Bangladesh is portrayed in Germany, Italy or any other European nation.
He also praised Bangladesh for achieving important growth rates and millennium development goals.
Every country's infrastructure spending should be equivalent to 5 percent of its gross domestic product and accordingly, Bangladesh's investment requirement would be around $200 billion in the next 10 years, according to Prud'homme. But spending too much on infrastructure is not the only way to solve problems, he added.
"Infrastructure is very important for development and it is one way to solve some problems, but not necessarily the only way."
A better use of existing facilities such as basements and traffic rules can reduce congestion in Dhaka, he said. Better use of the roads, which are often blocked by cars, street vendors and rickshaws, can change the congestion situation, added Prud'homme.
"Bangladesh doesn't have a large number of vehicles. There are many other cities with twice or more cars and are less congested than Dhaka."
He cited examples from Singapore and China that have invested heavily in infrastructure over the years; India is doing it now, but it did not invest enough in the past.
He is also well aware that Bangladesh does not have enough money to spend as its tax-GDP ratio is one of the lowest in the world. So he advocated for wise utilisation of the money.
As a way out of heavy congestion in Dhaka, Prud'homme said the country should decentralise its activities. Ethiopia was poorer than Bangladesh, but now it is rapidly developing and decentralisation has been helping a lot, he added.
"It takes time and cannot be done overnight, as local government bodies need time to get equipped," he said. "But it must be done."
The involvement of the private sector is vital to address the infrastructure needs, he noted. In many cases, it is much more knowledgeable now than 40 years ago.
On foreign direct investment, which does not reach expected levels in Bangladesh, he said it is not necessarily bad. South Korea has developed without much FDI, he added.