Lack of recognition stifles informal sector's growth
Analysts call for protecting the rights of domestic workers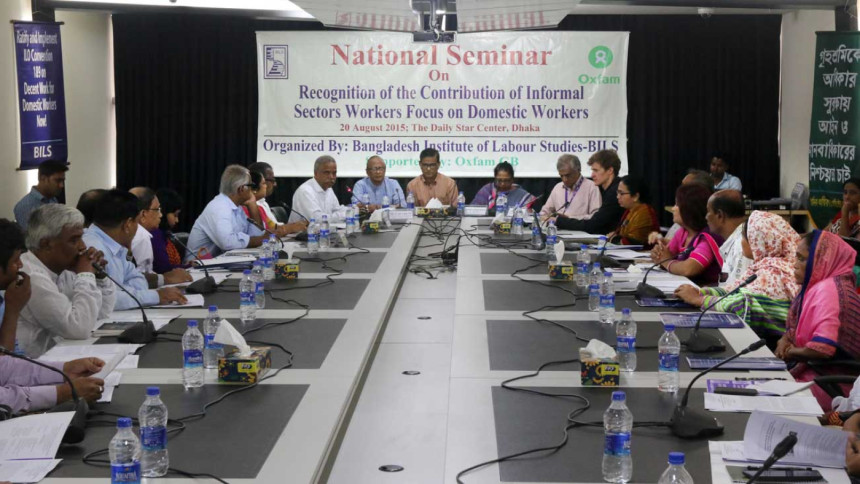 The informal sector generates 89 percent of the country's total employment, but the sector's contribution to gross domestic product remains low at only 40 percent.
Low productivity of workers due to a lack of education and technological know-how is one of the reasons behind the sector's poor performance in the GDP, speakers said at a discussion yesterday.
Workers in many areas are still not recognised, and the government is yet to ratify and implement Convention 22 of the International Labour Organisation that aims to improve working conditions of millions of domestic workers.
Analysts urged the government to deal with the issues and finalise the domestic worker protection and welfare policy that was drafted in 2010.
Bangladesh Institute of Labour Studies (BILS) organised the discussion -- recognition of the contribution of informal sectors workers: focus on domestic workers -- in association with Oxfam GB, a UK-based aid and development charity, at The Daily Star Centre in Dhaka.
Wajedul Islam Khan, secretary of BILS, moderated the seminar.
Speakers also called upon the government to recognise the informal sector and its contribution to GDP by conducting a survey and creating a database.
"There is no law for the informal sector. However, we have prepared a draft on it and that is waiting to be placed before parliament," said Md Israfil Alam, a member of the parliamentary standing committee on labour and employment ministry.
Shamsul Alam, a member of the General Economics Division of the Planning Commission, said the informal sector's contribution to GDP is much lower as its productivity is also lower than that of the formal sector.
"Excess population on a small piece of land is one of the major factors behind the huge supply of people to the informal sector," he said, citing 2013's Labour Force Survey.
Domestic workers should be considered as formal sector workers, he said. "First, we have to change our behaviour to our housemaids and then recognise them by approving and implementing the domestic workers policy."
The highest priority has been given to poverty alleviation in the seventh Five Year Plan, which is being revised now, he added.
Lucky Akhter, a maid from Jatrabari, said garment workers, especially women, can enjoy some labour rights such as weekly holidays, annual leave and maternity leave. "But we don't have such rights," she said, urging the government to formulate laws on domestic workers' rights.
Presenting the findings of a study on the "informal sector in Bangladesh: a labour market perspective", Sayema Haque Bidisha, an associate professor of economics at Dhaka University, said a lack of data in understanding the structure and location of informal workers is a major challenge.
"We need a proper survey on it," she said, stressing the need for technical and vocational education for informal sector workers.
Jakir Hossain, an associate professor at Rajshahi University, said the number of domestic workers above the age of 15 is around 14 lakh, representing 0.8 percent of the total labour force in Bangladesh.
"The domestic workers are poorly paid, hardly receive their salaries on time and have no specific working hours or off days. Sexual, physical and verbal or mental abuse, and negligence towards them are common as well," he said.
Henrik Maihack, resident representative of Friedrich-Ebert-Stiftung, a non-profit political foundation of Germany, said some 22 countries have ratified the Convention 189. "We should find ways to ratify and implement it in Bangladesh."
Snehal V Soneji, country director of Oxfam GB, urged the people who employ housemaids to change their mindset, before the government's recognition. "We need to start giving them a proper identity, wages and holidays."