Jute farmers get better prices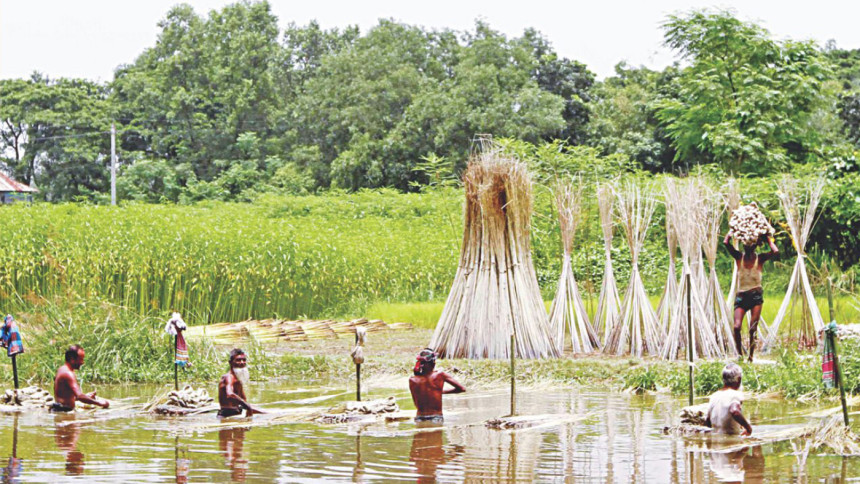 Jute growers are receiving better prices this season amid higher exports of the raw fibre to India and fears over low local output due to unfavourable weather, said traders and exporters.
The price of raw jute in the local markets rose 13 percent to Tk 1,700-Tk 1,800 a maund (40kg) from last year.
Farmers are happy that prices are higher this harvest season, but at the same time, jute goods makers are apprehensive that it may affect their export competitiveness as global demand is still tepid.
"It is good that we are getting better prices this season compared to last year," said Md Shihabul Islam, a farmer at Boalmari in Faridpur, one of the main jute growing districts.
"Current prices will bring profits."
Prabir Saha, a jute trader at Madhukhali, Faridpur, linked the price spike to higher raw jute exports to India.
"India bought a higher amount of raw jute in April-May, as production has been affected there by unfavourable weather conditions, which led to the spike in demand," said Abdul Quayyum, secretary of Bangladesh Jute Association, a platform of raw jute exporters.
Heavy rains in July and early August affected the crops, including jute, in India.
Bangladesh Jute Spinners Association (BJSA) predicts that total jute production might be up to 60 lakh bales (1 bale=182kg) this harvesting season.
The Department of Agricultural Extension has set the jute production target at 75.6 lakh bales this year, which is slightly higher than last year's output of 75.01 lakh bales, recorded by Bangladesh Bureau of Statistics.
Suruz Mina, a farmer from Shibchar of Madaripur district, said drought has stunted the growth of jute plants.
"Yield is expected to be low as the plants did not grow much this year," said Ahmed Hossain, chairman of BJSA.
The industry requires about 55 lakh bales of raw jute to make yarn, jute and jute goods, mainly to export, he added. 
Under current circumstances, there might be a shortfall and prices will go up in the coming months, according to Hossain.
"We are concerned as local market prices do not match our production costs and export prices. The cost of raw materials is going up but our buyers are not agreeing with the prices," said Hossain.
Global demand for jute yarn and jute goods has remained sluggish. One of the main reasons for low export performance is unrest in the Middle East, a major destination for locally produced jute and jute goods, according to operators.
The BJSA chairman demanded the government restrict the export of jute for the time being, to ensure domestic availability of the natural fibre.
Exporters shipped 10 lakh bales of raw jute in fiscal 2014-15, up from 9.84 lakh bales in the previous year. Exports of jute goods rose to 8.18 lakh tonnes in fiscal 2014-15 from 8.08 lakh tonnes a year ago, according to the Department of Jute.
Bangladesh fetched earnings worth $868 million from jute and jute goods exports in fiscal 2014-15, which is 5.34 percent higher than in the previous year.