Job growth slowest in two decades
Economists expect measures from next budget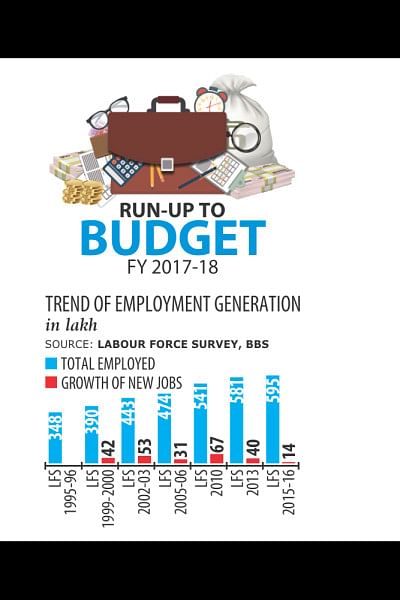 Bangladesh's job growth is the slowest in two decades although its economy has been registering faster growth for the last several years.
The country could add only 14 lakh jobs between 2013 and fiscal 2015-16, down from 40 lakh jobs it had added between 2010 and 2013, according to Bangladesh Bureau of Statistics' Labour Force Survey data.
The sluggish job creation has raised questions about the high economic growth figures being recorded, with some economists terming the phenomenon to be 'jobless growth.'
Some others raised questions about the accuracy of official economic growth figures.
Amid this situation, Finance Minister AMA Muhith will announce the budget for fiscal 2017-18 on Thursday. Analysts said creating adequate jobs for the growing young population will be a major challenge for the government in the coming year.
The latest figure on employment generation comes after the state-owned statistical agency estimated GDP growth this fiscal year to be a record 7.24 percent, up from 7.11 percent a year earlier.
This would be the second year in a row in which the country managed to break out of its decade-long 6 percent growth trap.
"The slowdown in employment expansion is a puzzle," said Zahid Hussain, lead economist of the World Bank's Dhaka office.
The reason it is a puzzle is that the slowdown happened during a period of rising GDP growth led, on average, by double-digit growth in manufacturing. "So, anomalies in numbers cannot be ruled out."
He, however, said it is not unusual for developing countries going through structural transformation.
A significant development in Bangladesh during the period was reforms to improve safety in the garment industry, the largest single employer in manufacturing, in the aftermath of two major industrial accidents.
This led to closing of many informal or quasi-formal garment factories with consequent shedding of employment, Hussain said.
Also, anecdotal evidence suggests that the recent entrants to the industry are more capital intensive than the older generation of garment units, he added.
"This phenomenon of slower employment growth relative to economic growth suggests the benefits of economic growth are not trickling down," said ATM Nurul Amin, chairman of Brac University's economics and social sciences department.
Along with efforts to increase the pace of economic growth, the government needs to identify the causes of slow job growth in the private and NGO sectors, he added.  The country's labour force stood at 6.21 crore at the end of fiscal 2015-16, of which 5.95 crore are gainfully employed. The size of labour force at the end of 2013 was 6.07 crore.
Between 2013 and fiscal 2015-16, the industrial sector created only one lakh additional jobs to take the total number of the employed in the sector to 1.22 crore.
Jobs grew mainly in the services sector, while the agriculture sector shed jobs. The services sector added 22 lakh to take the tally of the employed in the sector to 2.2 crore.
Most of the jobs grew in informal sector, while eight lakh came out of the farm sector during the period.
BBS data shows that Bangladesh registered its highest employment generation -- of 67 lakh -- between fiscal 2005-06 and 2010. Since then, employment generation has been slowing.
"It should be a wake-up call to come out from unreal discussion based on official growth rate," said Hossain Zillur Rahman, executive chairman of Power and Participation Research Centre.
While the economy has strong fundamentals, the official growth narrative is progressively becoming an exercise in demonstrating political prowess, rather than an effective analysis of what needs to be done, he said.
The policymakers are focusing on few indicators like growth when the key drivers of the economy such as exports, remittance and employment are showing a negative trend.
About 30-31 percent less employment is being generated in a year now than a decade ago. A large number of jobs are being created in informal sector, which is less productive, he said.
Also, the link between jobs and education is weakening. Foreign nationals are being appointed in many jobs in the industrial sector at a time when unemployment and underemployment among the educated remain high.
"It means the existing education system cannot meet the demands. Questions are being raised about the certificate-based education," Rahman added.
Labour-intensive growth and creation of decent jobs are critically important for a labour-abundant country like Bangladesh, said Towfiqul Islam Khan, research fellow of the Centre for Policy Dialogue.
Khan said employment issues do not get adequate attention from policymakers as data on labour force is released every three years and not at reduced intervals like quarterly.
"Seeing the economic growth figures, it appears capital-intensive growth is taking place."
Net employment in the manufacturing sector declined in fiscal 2015-16 compared to 2013, although the manufacturing sector is registering double-digit growth, he added.
The WB's Hussain said employment cannot grow fast enough when private investment is stagnating.
Private investment has been hovering at 22-23 percent of GDP for many years now.
In addition, employment expansion requires employment friendly policies such as enabling the growth of labour-intensive activities, he said.
Bangladesh's trade policy still provides high protection to import-substituting industries that have high capital intensity while discriminating against labour-intensive export-oriented activities. 
"Reforms to improve the domestic investment climate and further liberalise the trade policy regime are needed to rejuvenate employment growth," Hussain added.