Internet users soar
One crore connections added in seven months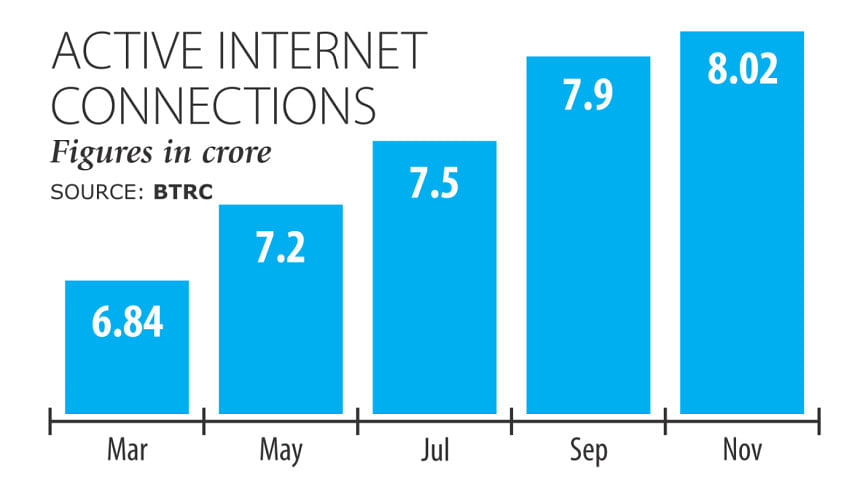 The ICT industry has added one crore active internet connections in the last seven months and crossed the eight crore-mark on the back of the growing use of digital platforms in the country.
The country has 8.02 crore active internet connections as of November, Bangladesh Telecommunication Regulatory Commission (BTRC) said in a report yesterday.
Of them, 7.47 crore use internet on mobile phones, 53.42 lakh through broadband lines and 88,000 through Wimax, according to the report.
As of November, there are 14.31 crore active SIMs in the country.
"The growth is very natural and it will be much higher in the near future," said TIM Nurul Kabir, secretary general of the Association of Mobile Telecom Operators of Bangladesh. "A lot of digital services are available now. The increasing number of such services will boost internet use."
Kabir said people now use internet for commercial purposes and even to use ride-hailing services. Many government services can now be accessed through digital channels that are boosting internet use.
"That's the real essence of digitisation."
Most of the internet users are young as they are the early adaptors of any new service, Kabir said.
The ICT industry touched the milestone of six crore active internet connections in July 2016, five crore landmark in August 2015 and four crore mark in September 2014, according to BTRC data.
In November, Teletalk added 9.26 lakh new mobile connections as the state-owned telecom operator started selling special SIMs among women on October 24 this year. The SIM allows users to access internet without any charge.