Innovate product, design to move up
Fashion expert says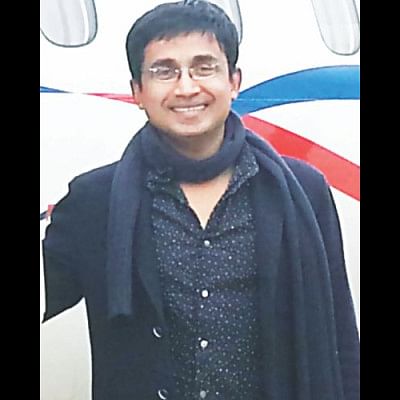 Apparel exporters in Bangladesh should invest on design and product innovation without any delay to move up the global value chain and get better prices, said a top executive of a US-based fashion marketing and consulting firm.
"Time is running out for Bangladesh," Prasenjit Tito Chowdhury, chief executive of FashioNXT, told The Daily Star in an interview recently.
At present, a Western buyer purchases a product at $2 from Bangladeshi manufacturers and retails it at $25 just because of the country's shortcomings in innovative designs and failure to add value to the products, he said.
If the country fails to deal with the value chain issue sooner, the international buyers will continue to squeeze exporters further.
Chowdhury said he has urged Bangladeshi entrepreneurs to focus on design and product development but they do not seem to be very enthusiastic.
"Collective initiatives from entrepreneurs, universities and the government are needed. Otherwise, we will continue to rely on Western buyers for designs."
Value addition through design and product development should be a survival strategy for Bangladesh's garment sector, said Chowdhury, a graduate of the prestigious Bangladesh University of Engineering and Technology.
"If we don't do it, we will lose markets to our competitors and face further pressure from buyers."
The governments of China, India and the Philippines promote their designers at the global stage in a big way, Chowdhury said.
Countries such as Vietnam, Cambodia and even Myanmar are coming up and building their own value chain to fetch better prices for their products.
"But there is no such effort from Bangladesh. We need initiative and a plan -- we have to go to the outside world to tell them about our apparel industry and products."
Chowdhury went to the US in the mid 1990s, where he worked at Intel for 15 years on high-speed microprocessor circuit design.
At the US technology company, he learnt about all types of digital circuit design, which encouraged him to join FashioNXT in 2006.
FashioNXT has become a well-known showcase and brand enhancement platform for fashion, lifestyle and technology companies in the US. It organises fashion weeks in Portland in October every year.
At the event designers from all over North America unveil their next season's collections.
The event also attracts designers from Colombia, the Philippines and China.
So much that Portland's Mayor Charlie Hales announced FashioNXT as the city's official fashion week.
FashioNXT can help Bangladesh get knowledge on designs and fashion and also connect the country's entrepreneurs with the stakeholders in the global fashion industry, he said.
"FashioNXT presents an innovative fashion experience in Portland and the world takes notice."
Chowdhury received Portland Mayor's Spirit of Portland Award 2008. The event has been featured in TIME Magazine's issue of Oct 15, 2012 as the best fashion week in the US outside New York City.
He said what is next in fashion today is wearable technology. "Fashion technology is the future."
FashioNXT has launched an initiative, UpNXT Emerging Designers Accelerator Programme, to nurture promising talents.  Portland's biggest sector is apparel but there is no programme to help designers thrive.
"UpNXT is an amazing thing. Under the initiative, we identify the best of the best. We are helping the designers as many don't know how to navigate through the industry."