Inflation edges down as food prices cool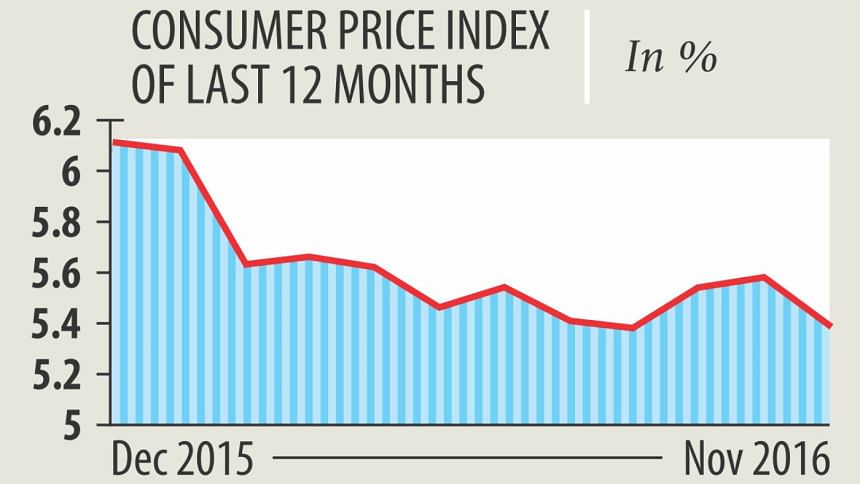 The consumer price index that gauges inflation fell to a three-month low in November, driven by a decline in prices of some major food items.
Inflation declined to 5.38 percent in November, down from 5.57 percent in October and 5.53 percent in September, according to data from Bangladesh Bureau of Statistics. Inflation was 6.05 percent in November last year.
The government has set a target to contain inflation at 5.8 percent at the end of the current fiscal year.
"This is a good time. Prices of food, especially rice, onions and vegetables are going down, riding on adequate supply," said Planning Minister AHM Mustafa Kamal, while releasing the monthly inflation data.
The fiscal year's target of 5.8 percent is now quite achievable, said Kamal.
Food inflation fell to 5.41 percent in November from 5.56 percent in October. However, it was 5.1 percent in September.
Declining prices of rice, pulses, vegetables, onions and ginger have driven down the food inflation, data showed.
Non-food inflation also declined to 5.33 percent from 5.58 percent in October and 6.19 percent in September.
Besides, the general inflation rate at the urban level declined to 6.56 percent in November, down from 6.87 percent in October. This rate came down to 4.75 percent at the rural level from 4.87 percent in October.
At the rural level, food inflation went down slightly by 3 basis points to 4.83 percent in November from a month ago, while non-food inflation declined to 4.6 percent from 4.83 percent in October this year.
In urban areas, food inflation also fell to 6.74 percent in November from 7.09 percent in October. The non-food inflation rate also witnessed a declining trend with 6.35 percent in November from 6.63 percent in October.