Inflation edges up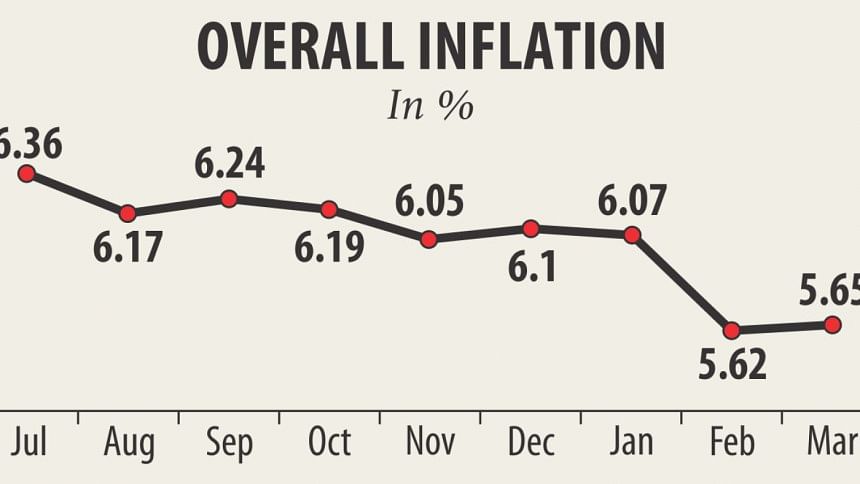 Inflation inched up to 5.65 percent in March from the previous month thanks to a rise in food prices.
Food inflation, which dictates overall inflation in Bangladesh, rose to 3.89 percent in the third month of the year from 3.77 percent in February because of a rise in prices of meat and sugar, Planning Minister AHM Mustafa Kamal said.
Kamal spoke while releasing the data yesterday at the National Economic Council.
Although non-food inflation went down to 8.36 percent in March from 8.46 percent in February, it has remained high.
Inflation in Bangladesh has been going downward on low commodity prices in international and local markets. As the exchange rates remained stable, the prices of imported goods did not go up which contributed to the fall in inflation.
A good harvest of aman paddy and the falling international commodity prices caused the decline in food inflation, a Bangladesh Bank official said.
The government decision to lower fuel prices might help bring down inflation further. Last week the government cut furnace oil price by 30 percent.
On Monday, Nasrul Hamid, state minister for power, said the government would cut diesel, octane and petrol prices by up to Tk 10 within a week -- in the first of the three-phase reduction.
However, the International Monetary Fund in a recent report said inflation is expected to edge up in fiscal 2016 to fiscal 2018 on account of higher public sector wages and a one-off effect from the introduction of the new VAT law.
The report, which was released in the first week of February, also said headline inflation should fall gradually toward 6 percent by fiscal 2019-20, assuming that monetary policy stays prudent and supply bottlenecks ease.