Indian firm wins contract to build Rampal power plant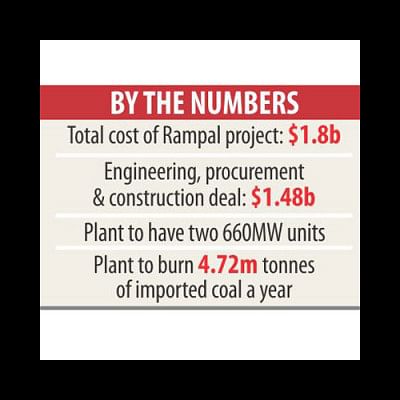 India's state-run Bharat Heavy Electricals Ltd or BHEL has won a deal to build the much-debated Rampal coal-fired power plant in Bangladesh.
BHEL has turned out as the lowest bidder for the 1,320-megawatt coal-based power plant, said Anwarul Azim, the spokesman for the Bangladesh-India Friendship Power Company Ltd (BIFPCL), a joint venture set up to build the plant.
"We have already issued the notification of the award to BHEL. There are some formalities that need to be completed before the deal is signed," he told The Daily Star yesterday, adding that the $1.48 billion engineering, procurement and construction deal will be signed very soon. 
The total cost of the project is estimated at $1.8 billion.
The construction is expected to start by June. BHEL will have to complete the project in 41 months after the financial closure, which is expected to complete in four months. 
China's Harbin Electric International Company Ltd, which has power projects in Iran, Turkey and Indonesia among others, lost the bid on technical grounds, news agency Reuters said quoting officials.
The Reuters report also said the Indian government's external lending arm, the Exim Bank, has backed up BHEL's offer with nearly 70 percent funding of the project's costs at a soft interest rate of around 1 percent above Libor, the leading global benchmark for pricing transactions.
The proposed power plant will have two units of 660MW that will generate power for local consumption, as nearly 40 percent of the population does not have access to electricity.
The project, however, has raised environmental concerns, with activists warning that the movement of coal posed a threat to the nearby Sundarbans, the world's largest mangrove forest.
The project poses significant adverse social and environmental risks and impacts that are diverse and irreversible, said Bank Track, a Netherlands-based coalition of organisations "targeting the operations and investments of private sector banks and their effect on people and the planet" last year.
The government and the BIFPCL said the plant would not harm the Sundarbans as international standards are being followed properly.
Earlier, Ujjwal Kanti Bhattacharya, managing director of the BIFPCL, said the criticisms of the plant are not based on ground realities.
Bhattacharya had said the company is taking the most stringent environmental protection measures. The plant would not harm cultural heritage and biodiversity and living natural resources, he said.
The Rampal plant is located just 14 kilometres upstream of the Sundarbans. The plant, which will be comprised of two 660MW supercritical units, is estimated to burn 4.72 million tonnes of imported coal a year.