Import orders hit record high
LCs worth $11.38b opened for Rooppur Nuclear Power Plant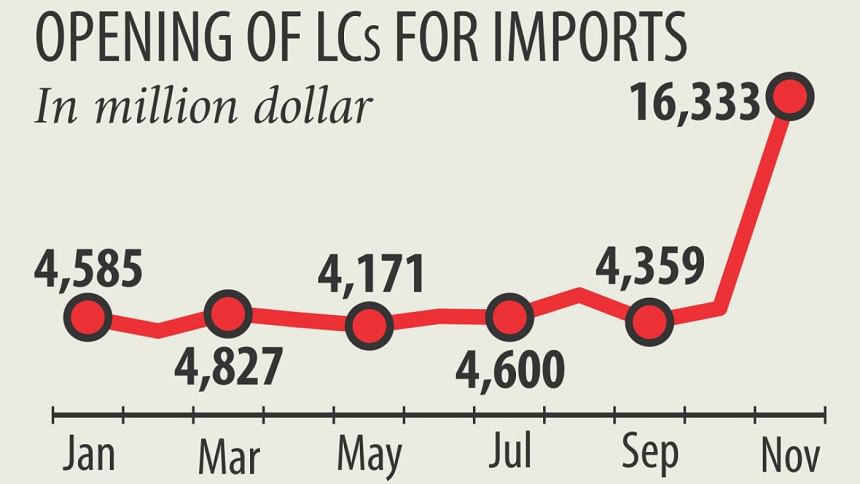 The value of letters of credit opened in November recorded an all-time high of $16.33 billion riding on huge import orders by Bangladesh Atomic Energy Commission for the Rooppur Nuclear Power Plant.
Bangladesh Bank data showed that the BAEC alone opened LCs worth $11.38 billion last month through state-owned Sonali Bank to set up the power plant, the first of its kind in the country.
Bangladesh's import orders have never crossed $6 billion in a single month.
JSC Atomstroyexport, a Russian contractor, will build the power plant at a cost of $12.65 billion.
Moscow will give 90 percent of the fund for Bangladesh's largest-ever infrastructure project under an agreement with Dhaka. The remaining 10 percent will be provided by Bangladesh.
The Bank for Development and Foreign Economic Affairs (Vnesheconombank), a Russian lender, will provide all types of equipment for the plant, a Sonali Bank official said.
The BAEC has used almost all the credits given by Russia to open the LCs.
The commission will not need to open any further LC for the plant as it placed the import orders in one go, the Sonali Bank official said.
Capital machinery and industrial raw materials for the plant will be imported in phases till 2024.
A BB official said the import orders, the highest in the country's history, would not put any pressure on the foreign exchange reserves.
"The reserves, however, may come under pressure when the government starts to pay instalments for the loans," he said.
The BAEC will settle the LCs using the Russian credit, which will have tenure of 30 years with a 10-year grace period. Bangladesh will have to start repaying the loans from March 2027.
The Rooppur plant is expected to supply 2,400 megawatts of electricity to the national grid by 2024.
Prime Minister Sheikh Hasina inaugurated the main construction work of the project on November 30.
The BAEC is implementing the project with technical support from Russia's Rosatom State Atomic Energy Corporation.
The rest of the export orders were for industrial raw materials, capital machinery, food grains and other commodities.