HSBC honours export heroes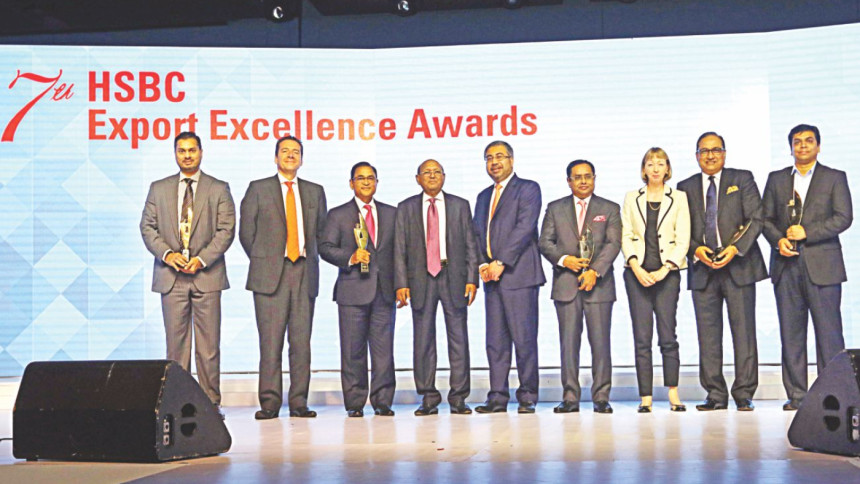 HSBC Bangladesh has recognised five local exporters for their leadership in brightening the country's image and contributing to the nation's sustainable growth.
The winners of the '7th HSBC Export Excellence Awards' are: Square Fashions, Tarasima Apparels, Envoy Textiles, Seamark (BD), and Classical Handmade Products Bangladesh.
Commerce Minister Tofail Ahmed handed over the trophies to the companies' owners at a ceremony held at the Radisson Blu Dhaka Water Garden Hotel in the capital on Friday.
Square Fashions, an enterprise of Square Group, won the 'Exporter of the Year' trophy in the readymade garment company category for annual export turnover of more than $100 million.
The company, which began production in 2001, ships to 25 globally acclaimed brands and 75 countries.
Tapan Chowdhury, managing director of Square Group, received the award.
Tarasima Apparels won the award in the readymade garment category for annual export turnover of up to $100 million.
Established in 2007, Tarasima Apparels is now a LEED certified platinum category green manufacturing operation exporting woven garments to about 40 countries.
It is preferred by a number of global apparel brands due to its commitment to environment and worker friendly work-station.
The award was received by Mishal Ali, deputy managing director of Bitopi Group, the owning company of Tarasima Apparels.
Envoy Textiles became the exporter of the year in the supply chain and backward linkage apparel category of annual export turnover of $10 million or more.
Set up in 2005, Envoy Textiles is a manufacturer of high-quality denim and exports to 21 countries, including the US, the EU, Turkey, Australia, China, India, Sri Lanka and Vietnam. Kutubuddin Ahmed, chairman of Envoy Group, accepted the trophy.
Seamark (BD) was awarded in the traditional and emerging sectors with annual export turnover of more than $10 million.
The company started its journey in 2002 and now ships seafood items to the UK and other European markets.
Its parent company Seamark, which opened its doors in 1976, is one of Europe's leading processors, exporters and distributors of frozen food. Iqbal Ahmed, founder of Seamark, accepted the award.
Classical Handmade Products Bangladesh won the exporter of the year award in the small and medium enterprises category with annual export turnover of up to $10 million.
Located at Nilphamari, Classic Handmade manufactures handmade home décor products from recycled textile waste. It employs 2,000 people and supplies to renowned global brands.
The firm is now exporting to 33 countries including Germany, Spain, Sweden and the US.
Md Touhid Bin Abdus Salam, managing director of the company who received the award, started the venture with investment of Tk 54 lakh. Now, his annual turnover stands at $3.5 million. 
Speaking as the chief guest, Tofail Ahmed congratulated the winners. He said, out of the world's top 10 green companies, seven are in Bangladesh.
In the coming days, we will see more and more factories being transformed into green factories.
"After the collapse of Rana Plaza building, our factory owners have learned their lessons and renovated their factories. The government has also given tax benefits."
He thanked HSBC for financing four power projects as well as the Bangabandhu Satellite-1 project.
Alison Blake, British high commissioner to Bangladesh, said she is overwhelmed by the amount of talent, energy and commitment of the award-winners in boosting exports and building a brighter and more prosperous future for Bangladesh. 
She lauded Bangladesh's industrial sector, particularly the garment factories, for employing women. "You are giving an economic role, a voice and a platform to women," she added.
Francois de Maricourt, chief executive officer of HSBC Bangladesh, said: "Our entrepreneurs have been at the forefront in fuelling the steady economic growth of Bangladesh. At HSBC, we are honoured to recognise and encourage these individuals for perseverance and hard work."
Bangladesh's exporters are promoting the country's brand on the global stage. "I would like to thank Bangladesh's entrepreneurs for your perseverance and hard work and for taking the label of Made-in-Bangladesh worldwide."
Mahbub ur Rahman, deputy CEO of HSBC Bangladesh, said exporters have been playing a vital role in the economic prosperity of Bangladesh.
"Our entrepreneurs have built a world-class supply chain and made the Bangladesh brand international," he added.
In his reaction, Iqbal Ahmed, founder of Seamark, said the export of seafood can be increased significantly as international buyers like the products imported from Bangladesh. "Our products are consumed by billionaires," he added.
Miran Ali, managing director of Bitopi Group, said companies can cut water consumption by 30 percent by embracing green production practices.
Classic Handmade's Md Touhid Bin Abdus Salam said he is glad to bring jobs to people of the northern district. Some 87 percent of his workers are women.
The jury board picked up the winners from 102 nominations submitted this year.
Launched in 2010, the award takes into consideration the companies' corporate social responsibility practices, regulatory compliance, sustainable business practices, commitment and contribution to local economy. The Daily Star, the Prothom Alo, Bangladesh Brand Forum and KPMG are the strategic partners of the awards.
HSBC Bangladesh helps ship products to over 100 countries each year. More than 10 percent of Bangladesh's global trade is channelled through the bank.