HSBC announces 10pc interest rebate for good borrowers
BB instructs other lenders to follow directive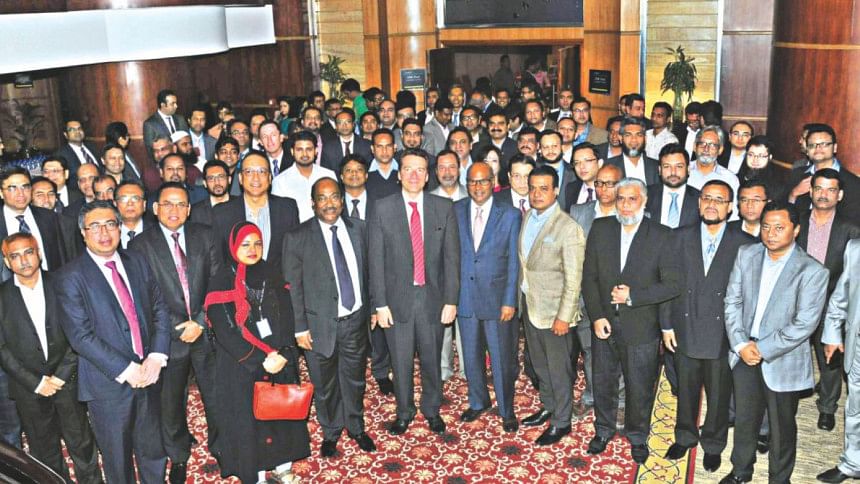 The central bank has warned that it will not spare any bank if it fails to follow its directive to pay a 10 percent rebate on realised interest to all good borrowers.
"Every bank must give incentives to its borrowers with regular payment records," SK Sur Chowdhury, deputy governor of Bangladesh Bank, said at a programme organised by HSBC at the Westin hotel in Dhaka to recognise its good clients. HSBC is the first bank in Bangladesh to announce benefits for its customers to comply with a BB order.
In a notice in March, the central bank directed banks to pay a 10 percent rebate on realised interest to all good borrowers. The borrowers will be given the rebate on interest in the third year of loan repayment. This rebate will continue in the following years if the borrowers continue to repay on time.
The central bank took this move amid allegations that it was often lenient to bad borrowers or defaulters and their loans were restructured or rescheduled. Different trade bodies were also demanding the benefit.
Many banks refrained from offering the rebate on interests paid, saying that the good borrowers are already getting the benefit of low interest rates and it is tough for them to give their customers more. Chowdhury said there was a lot of pressure from the banking sector not to implement the decision, but the BB did not budge.
The deputy governor said they have issued fresh orders for banks to pay their good clients the rebate for 2015.
"We are collecting statements from the banks in this regard. There is no way to escape it," said Chowdhury.
He also hoped that HSBC will pay the rebate to their eligible clients without any hassle.
HSBC did not mention the number of clients or the amount to be offered under the scheme for 2015. But an official said the total amount would be no less than $1 million (about Tk 8 crore).
"One borrower is being refunded as much as Tk 1 crore," said the official, requesting anonymity.
Francois de Maricourt, chief executive officer of HSBC Bangladesh, said they are delighted to recognise their good borrowers. "The relationship with our customers has always been our priority and we are proud to have a customer base that is compliant with the banking norms," said Maricourt.
Mahbub Ur Rahman, deputy CEO and country head of commercial banking at HSBC Bangladesh, said as a financial institution, HSBC always aims to foster the business of the good customers.  He said the initiative will not only foster a good culture of timely loan repayment, but also help customers build on their business strategy.
Three borrowers of HSBC also talked on the occasion. "It's a pleasant surprise for us, although we know about the Bangladesh Bank order in this regard," said Uzma Chowdhury, corporate finance director of PRAN-RFL Group.
Dr Arif Dowla, managing director of ACI Group, praised HSBC for its wonderful initiative to recognise its good borrowers.
A Matin Chowdhury, managing director of Malek Spinning Mills, also spoke.