Govt spending up 25pc, propped by development works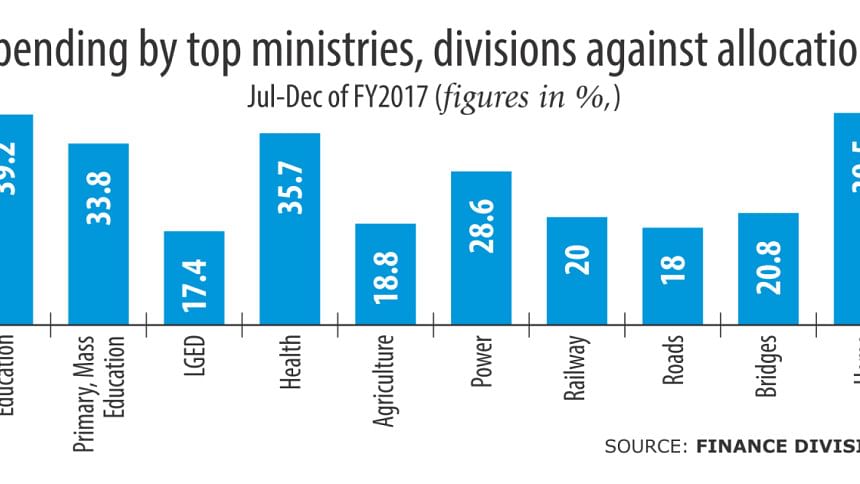 Total expenditure of the budget was 24.64 percent higher in the first half of 2016-17 than a year earlier thanks to an increase in development spending.
Between the months of July and December last year, total spending stood at Tk 95,503 crore, according to a report from the Finance Division.
Development spending rose 27.67 percent and non-development expenditure 23.74 percent during the period.
The report, which provided the up-to-date picture of budget implementation and the economy, was presented in parliament on Monday by MA Mannan, state minister for finance and planning, in the absence of Finance Minister AMA Muhith.
Muhith was in Japan to attend the Asian Development Bank's annual meeting; he left a written speech that Mannan read out in parliament. The total size of the budget is Tk 340,604 crore for 2016-17.
Although development expenditure picked up from a year earlier, the actual amount spent is still low when viewed against the total allocation, said a finance ministry official.
The ministries and divisions could implement only 20 percent of their total budgetary allocation in the first half of the fiscal year.
"At the beginning of the fiscal year, development expenditure tends to be unhurried. It is only in the second quarter that it goes to full steam," the official added.
Muhith emphasised increasing regular visits for the completion of projects on time.
In case of non-development expenditure, the ministries spent about 32 percent of their total allocation in the first six months, thanks in part to low fuel prices.
Fuel prices have remained low and stable on the international market in recent years, meaning expenditure on subsidy was at a comfortable level this fiscal year, Muhith said.
Some 76 percent of the total development budget has been allocated to 10 large ministries and divisions, according to finance division statistics. But they managed to spend only 29.2 percent of their total allocation in the first six months.
The government's revenue earning performance also improved in the first six months thanks to strong efforts from the National Board of Revenue.
The NBR collected Tk 76,008 crore between July and December last year, up 17.10 percent year-on-year.
The NBR's six-month takings though amount to 37.41 percent of the full-year target.
Though the government receives a big amount of revenue from non-NBR sources, this time the performance is very poor on that front.
In the first six months of the fiscal year, non-NBR tax collection declined 0.69 percent.
Non-tax revenue crept up 6.51 percent in the July-December period.
"The revenue collection growth is good but to achieve the target the NBR and other concerned will have to intensify their efforts," Muhith said.