Govt expenditure drops in Jul-Dec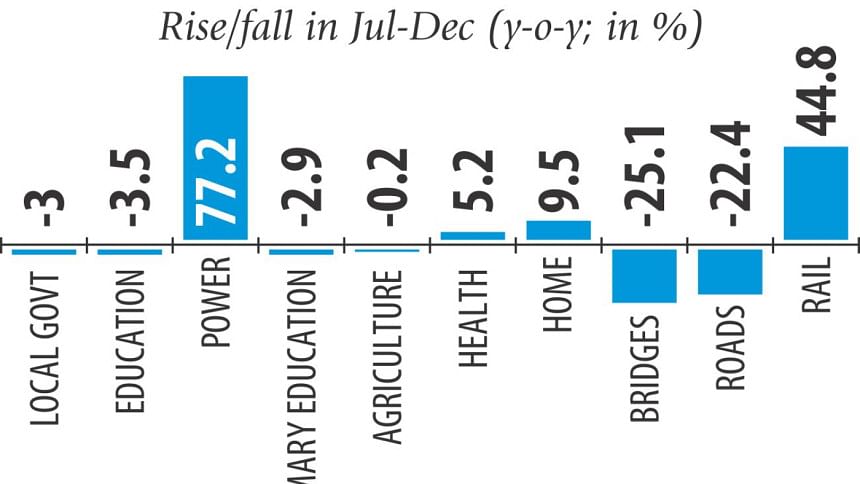 Government expenditure declined 0.2 percent year-on-year to Tk 67,621 crore in the first six months of the fiscal year despite the increase in public servants' salaries.
The amount is 26 percent of the total budget of Tk 295,100 crore.
The disclosure came in the six months' budget implementation report, which was placed by Finance Minister AMA Muhith in parliament yesterday.
Revenue expenditure dropped 1.2 percent to Tk 59,054 crore, while development expenditure increased 3.3 percent to Tk 17,547 crore, according to the report.
Among the ten large ministries and divisions, six spent 3 to 25 percent less than last year's.
The bridges division's spending decreased the most, by 25.1 percent, followed by road transport and highways division at 22.4 percent.
However, four ministries' spending rose much. The power division's implementation soared 77 percent and railways ministry's 44.8 percent.
"Praiseworthy progress has been achieved in the power and energy sectors," Muhith said.
In 2009, the power generation capacity was 4,942 megawatt, which now stands at 14,271MW.
Muhith said more power plants are under construction, whose total generation capacity would be 6,427MW.
Besides, the government has taken an initiative to import power from India.
Already 500MW power is being imported from India and the process of importing 6,500MW more power from other neighbouring countries is under way.  A master plan for the power sector will be prepared, where coal will be the main fuel, he said.
Presenting the budget implementation situation in the transport sector, Muhith said the construction work of the Padma bridge has progressed 31 percent.
Besides, the construction works of the 20-kilometre metro rail from Uttara to Motijheel and Dhaka Elevated Expressway have been expedited.