Gold prices to go up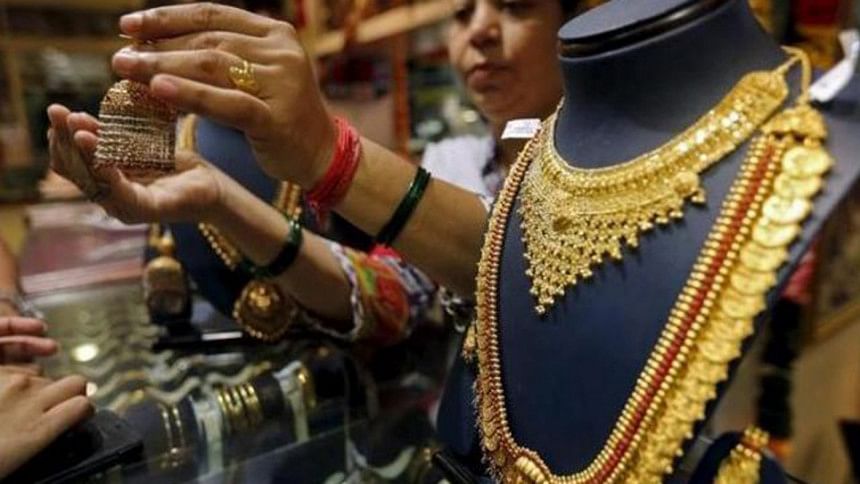 Gold prices will go up by Tk 1,225 a bhori in the local market from Saturday to reflect the rising bullion prices in the international market in recent weeks.
Bangladesh Jewellers Samity announced the new rate today.
According to the new rates, each bhori or 11.664 grammes of 22-carat gold will be sold at Tk 43,740.
The price of 21-carat and 18-carat will be Tk 41,640 and Tk 34,992 respectively, said Anwar Hossain, president of Bangladesh Jewellery Manufacturers and Exporters Association.
He said the prices of gold went up by $100-120 an ounce in the international market recently.
"Now we have to adjust the prices," he told The Daily Star.
Gold prices rose to their highest level in more than three months on Wednesday, spurred higher by a weaker dollar and expectations that the Federal Reserve will hold off raising interest rates in coming months, according to the Wall Street Journal.
Gold for April delivery, the most actively traded contract, closed up 1.3 percent at $1,141.30 a troy ounce on the Comex division of the New York Mercantile Exchange, the highest settlement since October 30.
The prices of silver also went up, by Tk 58 a bhori.
This is the second rise in gold and silver prices this year. Earlier, the prices were increased on January 13.
People buy gold when they think there are tough economic times ahead.
So it's no surprise that the precious metal's price hike has corresponded with the stock market's slide, according to the Times.
The Dow is down more than 7 percent to date while the Nasdaq is off by about 10 percent. Falling oil prices and a slowdown in China have compounded fears about the economy.
The proportion of solid precious metal in the 22-carat gold is 91.6 percent. It is 87.5 percent in the 21-carat and 75 percent in the 18-carat gold. 24-carat gold is considered as 100 percent pure gold.