Go for centralised banking to reduce risks, costs
Says an expert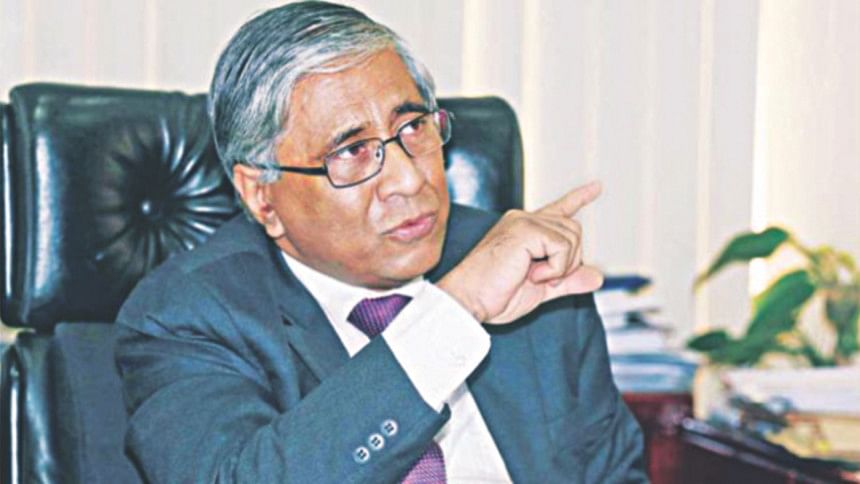 Banks in Bangladesh should adopt a centralised banking system as it helps lenders reduce costs as well as credit and operational risks, a top banker said yesterday.
Ahmed Kamal Khan Chowdhury, a former managing director of Prime Bank, said the system also improves efficiency and ensures responsibility and accountability of bankers. He said had Sonali Bank been a centralised bank, the Hall-Mark scam could have been averted.
"A centralised banking system could have detected why a branch had been opening so many letters of credit for Hall-Mark. The malpractice could have been stopped just after one case," he told The Daily Star at a views-exchange meeting at The Daily Star Centre.
The good thing is that, he said, some local private banks have already adopted global best practices. Brac, Eastern, The City, NRB Bank and Prime have introduced the system. Of the foreign banks, HSBC, Standard Chartered and Citi have been following the system for long. Under the centralised system, a bank manages its business and operations from the head office through a strong technological backbone. As a result, the traditional branch becomes just a mere sales and services point and is banned from disbursing loans. Even a branch manager can't open an account without sending it to the central processing system.
But there is pain too for adopting the system.
"The subject is very technical and lots of process reengineering, restructuring and communication are required. It takes a minimum five to six years to stabilise the system," said Chowdhury.
There is also a shortage of quality workforce capable of understanding the process, he noted.
The veteran banker with over three decades of experience said the technology-driven system is a threat to the job market but it is good for banks as it reduces the cost of doing business.
Various technology-based products like mobile banking, internet banking, and sharing of ATM booths among banks are making branch banking redundant to some extent, according to the banker.
Banks should establish an early warning system and account planning to avert technical hazards, he said.
According to a study of the Bangladesh Institute of Bank Management, 88 percent of banks in Bangladesh have put in place centralised core banking systems, which are allowing them to cut cost and provide real-time services online to customers.
The core banking software usage rate has increased from 59 percent in 2010, the study found.
Chowdhury also talked about nonperforming loans (NPL), agent banking, Basel III, the private sector and the overall economy.
While explaining the causes for the high amount of NPL, he said banks faced multiple crises in 2012 and 2013 when the country experienced violent political turmoil and the collapse of Rana Plaza.
He said the central bank brought changes to its loan classification rule in 2012 in line with international standards.
Under the changes, a loan becomes classified if the borrower doesn't pay an installment in 90 days, down from 180 days set previously.
According to the experienced banker, the Rana Plaza tragedy in 2013 threw the banking sector into further difficulty as many garment factories were forced to shutter because of non-compliance. Loans given to these factories defaulted, he added.
The current high rate of the NPL is the outcome of these, he said.
Chowdhury said the banking industry would face new challenges in implementing Basel III as it requires high liquidity coverage ratio – a thing that will push banks to increase deposit rate.
As a result, the lending rate will go up and the cost of doing business will increase, he said.
Basel III is a comprehensive set of reform measures, developed by the Basel Committee on Banking Supervision, to strengthen the regulation, supervision and risk of the banking sector.
Chowdhury said agent banking is gaining momentum, but the modalities are not profitable for banks because of hefty commissions given to agents.
He joined Prime Bank in 2004 and held important positions in the top management hierarchy and played key roles such as head of finance, risk management, head office credit review committee and business development before becoming its managing director in December 2014. His tenure with the bank ended last month.
Previously, he worked for ONE Bank, Eastern Bank, and Bangladesh Krishi Bank.
Chowdhury earned a master's degree in economics from the University of Dhaka and MBA in finance from a private university.