Work collectively for a fair economic order, says PM at Global South Summit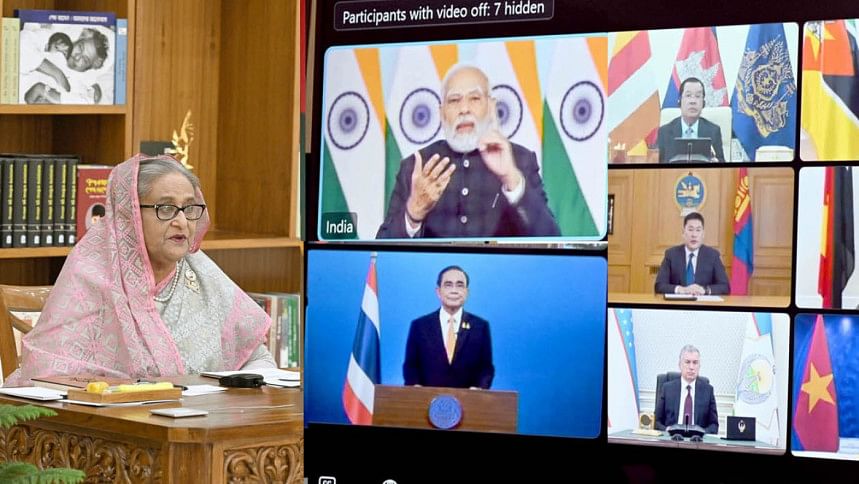 Prime Minister Sheikh Hasina today urged the world leaders to work collectively for a just and fair economic order as the Covid-19 pandemic and the Russia-Ukraine conflict with its sanctions and counter-sanctions have wreaked havoc throughout the world.
"Taking current global economy into account, it is high time to work collectively for a just and fair economic order," she said, addressing the inaugural leaders' session of the "Voice of Global South Summit-2023" through a virtual platform.
India is hosting the two-day virtual summit under the theme "Unity of Voice, Unity of Purpose" by bringing together the countries of the Global South to share their perspectives and priorities on a common platform.
Some 120 countries have been invited to participate in this virtual Summit. The outcomes of the two-day event will be channeled into the Indian's G20 presidency.
Hasina said Bangladesh, a country of global South, welcomes India's vision as the President of G20 to ensure inclusive development under the theme, "One Earth, One Family, One Future".
"Let us work together to have a better future and a better world," she said.
The Bangladesh PM said the recent Covid-19 pandemic and the ongoing Russia- Ukraine conflict with sanctions and counter-sanctions have created havoc world over.
"Global recession, crises of food, fuel and fertilizers have added to the rising impacts of climate change making peoples' life unbearable," she said, adding that bold, concrete and concerted actions are required at the global level to face these challenges.
Hasina also highlighted before the G20 platform six important points for sustained economic growth and development of the Global South.
"First, global peace and stability must be maintained for the greater benefit of humanity. Second, need a new paradigm that will address inequality in a holistic manner in parallel with SDGs, Third, special financing needs of the most vulnerable countries, including LDCs, climate vulnerable countries, etc. must be met during their transition," she said.
Raising the 4th point, she asked to bridge the "Digital Divides" to ensure equal opportunities for all, including women. "Take advantage of the 4th Industrial Revolution by investing in young population for which financing and technology transfer support is vital," she added.
In the 5th point, PM Hasina said all human beings should have equal rights to lead decent life. "The global community must not forget ensuring return of the unfortunate Forcibly Displaced Myanmar Nationals to Myanmar," she said.
In her final point, she asked to strengthen South-South and Triangular cooperation to ensure global human development. "Here, support from partners, international financial institutions, private sectors, think-tanks, and other stakeholders are crucial," she said.
Sheikh Hasina warmly congratulated Indian Prime Minister Narendra Modi and the Indian government on assumption of G20 Presidency. "I deeply appreciate his strong commitment to make the G20 Platform more meaningful by consultative engagement on inclusive development," she said.
She thanked the Indian government for inviting Bangladesh as a guest country to this important summit.
Focusing on the recent development of Bangladesh, the PM said the country has achieved rapid economic growth ensuring social justice for all. Bangladesh is acknowledged as one of the fastest growing economies in the world.
"We've reduced the poverty rate from 41.5pc to 20pc in the last 14 years. Our per capita has tripled in just a decade. Bangladesh has fulfilled all criterions for graduating from the LDC category to a developing country," she said.
She said Bangladesh is ranked as world's 5th best Covid resilient country, and South Asia's best performer.
Hasina said the country aspires to build 'Smart Bangladesh" with improved physical infrastructures as the foundation of a strong economy. "Our aspiration is to transform Bangladesh into a knowledge-based country by 2041 and to build a prosperous and climate-resilient delta by 2100," she added.
The Group of Twenty (G20) comprises 19 countries -- Argentina, Australia, Brazil, Canada, China, France, Germany, India, Indonesia, Italy, Japan, Republic of Korea, Mexico, Russia, Saudi Arabia, South Africa, Turkey, United Kingdom and United States -- and the European Union.