How Silicon Valley Bank's collapse ripped through global tech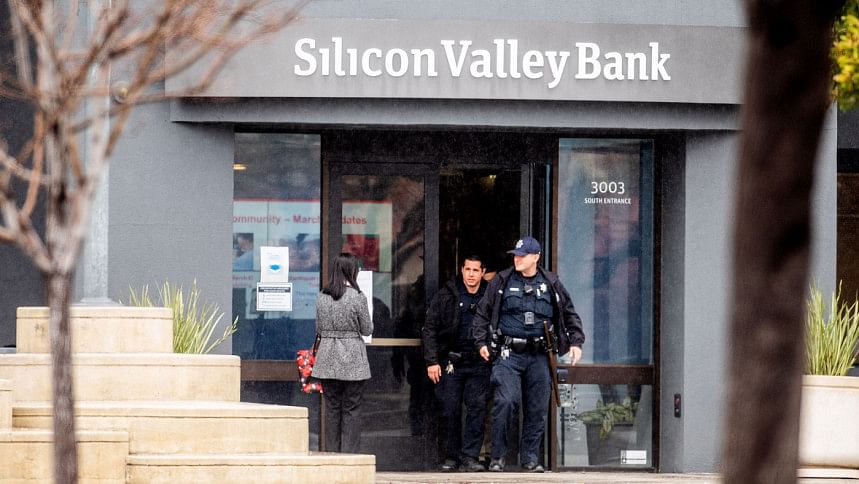 Not long after California startups started pulling money out of troubled Silicon Valley Bank, entrepreneurs in other parts of the world woke up to the news.
Not long after California startups started pulling money out of troubled Silicon Valley Bank, entrepreneurs in other parts of the world woke up to the news.
"Around 90per cent of our cash was in SVB," said Sam Franklin, 28, a London-based chief executive whose recruitment firm Otta specializes in tech talent. He ditched weekend "life admin" to figure out how to pay his employees at the end of the month.
In Hong Kong, Florian Simmendinger, co-founder and CEO of Hong Kong wearable company Soundbrenner, missed the start of the panic in California over SVB Financial Group (SIVB.O) last week, but he caught on quickly.
"I'm like, what? Are you kidding me? Like, my bank?" he said. "We already couldn't log into our account anymore during the regular business hours."
While the global effects of Silicon Valley Bank's collapse are just emerging, one thing is clear: tech startups, no matter how far apart, are intertwined. Many depend on a single mid-sized bank for their day-to-day operations.
Following the lead of California colleagues, startups in Europe and Asia gravitated to the bank, the 16th largest in the US last year, whose name rang with tech cachet and which offered them specialized financial services.
Quincy Lee, founder of Seattle-based EV charging startup Electra Era, tried to move millions of dollars from Silicon Valley Bank on Thursday afternoon as warning signs multiplied.
The website was down, overwhelmed by traffic. A customer service agent told him by phone that there could be a delay because so many people were trying to withdraw. By Monday afternoon, he had succeeded in getting his money and was looking for an alternative bank.
After a weekend of intense discussions over the future of SVB, US regulators unveiled an emergency funding plan that gave the bank's customers access to all their deposits.
In the UK, Britain's Chancellor of the Exchequer Jeremy Hunt said the government and the Bank of England had facilitated a private sale of SVB's UK arm to HSBC (HSBA.L), in a move which would protect deposits without taxpayer support.
European Union officials also assured consumers the bank had a "very limited presence" in the bloc. And Christoph Stresing, managing director of the German Startups Association expressed cautious optimism that domestic companies would get off lightly.
European stocks fell on banking industry concerns, though, and even startups that did not bank with SVB were scrambling.
"It's hard to understand just how interconnected SVB is with the start-up ecosystem," said Rachael Crook, founder and CEO of London-based healthcare start-up Lifted. Over the weekend she soothed investors and made sure crucial service suppliers would not be hobbled, after executives raised concerns a key financial partner may have money tied up with SVB.
Aleksandr Volodarsky, CEO of Ukrainian startup lemon.io, which banks with SVB in the United States, told Reuters he started discussing the collapse with other entrepreneurs in the region on Thursday.
"We initiated a wire transfer on Friday morning and still nothing happened," he said. "We were lucky because we just made payments to developers and engineers just two days earlier."
CHINESE STARTUPS MOVING MONEY
SVB's Shanghai-based joint venture, SPD Silicon Valley Bank (SSVB), said it had a sound corporate structure and an independent balance sheet. SSVB is China's first technology and innovation bank, and the first Sino-US joint venture bank.
As SVB was one of the few banks that made it easy for start-ups to open bank accounts for dollar financing, it was the dominant foreign bank for early-stage companies in China, advisors and companies said.
But many Chinese start-ups and fund managers are working to move their money out of SVB's US arm.
One lawyer for a China-based venture capital firm said nearly all of its portfolio companies' operating cash, as well as its own operating cash was stored with SVB, and spent the weekend strategizing on alternatives.
After a rollercoaster of a weekend, Otta CEO Franklin said his company would continue banking with the UK arm of SVB and add accounts at more banks.
"The big learning curve for many of us in this industry has been, 'If you have a lot of cash, you should spread it around.'"