Health on Wheels in action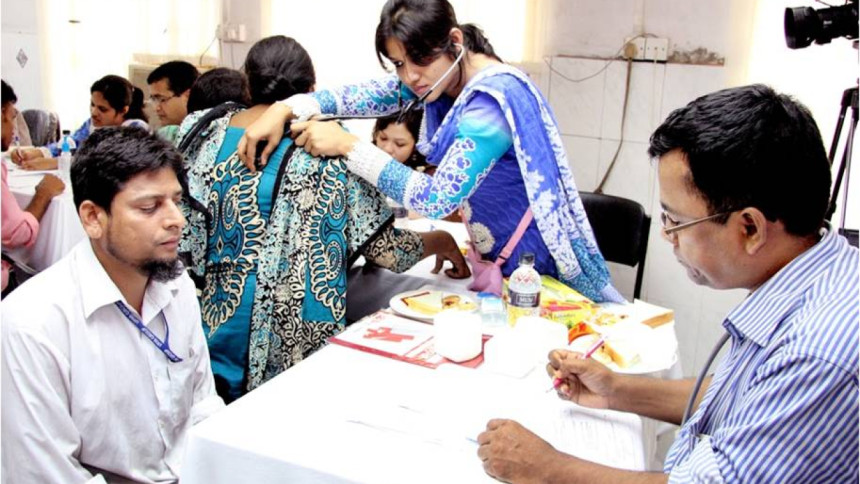 In the summer of 2015, I was very lucky to witness Health on Wheels in action, as well as take part in some of the procedures.
First, we attended an orientation at Dhaka Medical College where Dr Ruhul Abid introduced us to the programme, and I saw slides and videos of all the wonderful work the team had done the previous year providing healthcare to garment factory employees, with an emphasis on women's health. 
I learnt that Health on Wheels was an initiative by Health and Education For All and the onsite care included screening for common diseases, ongoing preventative care including health and feminine hygiene education, immunisations, high-risk pregnancy as well as onsite diagnosis and treatment for infectious and chronic diseases.
The team was highly diverse, and included doctors, medical students, an MIT student, and workers from Gazipur and Tangail. Learning about this work and meeting the team made me all the more excited to be working with this team.
The next day, we left bright and early for a factory a few miles outside Dhaka city in Gazipur and there, the team set up an assembly line of different stages of the medical work for every team member to be responsible for. As each employee of the garments factory arrived, they were handed a form with their name and basic information, with the rest of the boxes to be filled out by those at the different stations. They went through each stage of this procedure and the first was the "height and weight" station, where I helped out measuring their height, then their weight, and recorded these down on the form. I watched as they moved on to the next station -- having their blood sugar and blood pressure measured, and then consulting with a doctor on any chronic problems that they possibly had.
Going through the entire screening took each patient 6-9 minutes, and longer if they had a vaster medical history.
The team members were thoroughly enthusiastic throughout the entire process and also eased the situation for the employees, many of whom were facing such a check-up for the first time. It was a great day interacting with people -- both those at the factory, and the ones from the team, and afterwards we even visited a safari park. A couple of days later, I attended another session of checkups with the Health on Wheels team, this time at a skyscraper on Panthapath in Dhaka.
Although they were workers of a different company, it was once more the same process, and by this time, I had gotten stealthier and hence more efficient in the height and weight station and after observing, I even tried my hand at the blood pressure and blood glucose station for a few rounds.
Overall, I had an incredible experience learning, observing and participating in the work done by the Health on Wheels team. I met the amazing people who are part of the team and had come from all around the country and across the world to help with this project, interacted with factory employees and learned about their lives, and even picked up a thing or two about providing healthcare.
Padya Paramita is a student at Wellesley College, Massachusetts, USA.