Gender budget's real impact unclear
Analysts say at a discussion on women's economic empowerment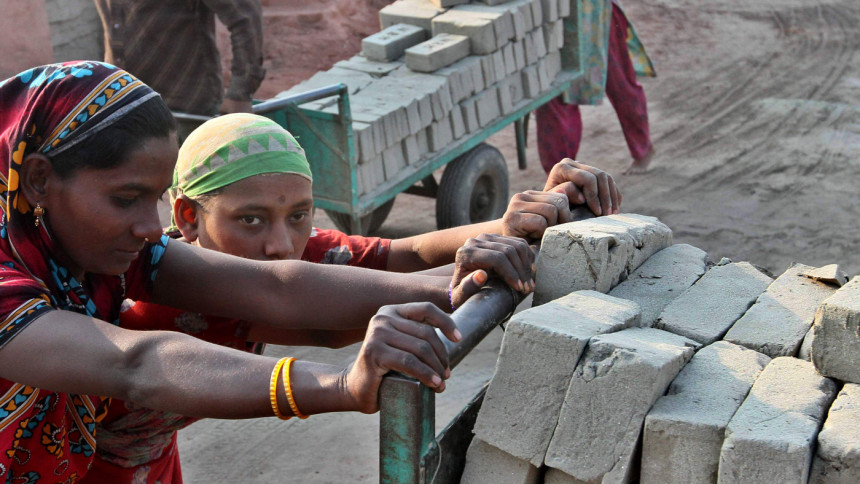 The impact of gender budget remains unclear in the absence of proper monitoring and evaluation of the schemes that are implemented to empower women and eliminate gender discrimination, analysts said yesterday.
Sharmind Neelormi, associate professor of department of economics at Jahangirnagar University, recommended developing a protocol for evaluation and monitoring for impact assessment.
Neelormi's comments came at a discussion on women's economic empowerment in light of the national budget for fiscal 2016-17. Bangladesh Mahila Parishad (BMP) organised the event at its office in Dhaka. BMP President Ayesha Khanam chaired the programme.
For the next fiscal year, Tk 92,765 crore has been proposed for the development of women as gender budget. The allocation is 29 percent higher than current year's, but the share of gender budget as part of the total budgetary outlay continues to be 27 percent.
The share of gender budget reached its peak, of 28.68 percent, in fiscal 2012-13, according to Neelormi.
The government has been presenting the gender budget report since fiscal 2009-10, explaining the policies and strategies for advancement of women and the activities of various ministries and divisions that have implications on women development.
Initially it presented such gender budget reports on four ministries. But now, the report contains analysis of women's advancement of 40 ministries or divisions.
In his budget speech, Finance Minister AMA Muhith shared plans to undertake a survey to assess impact of gender budget on women development.
This programme will be made more target-oriented on the basis of this assessment, said Muhith.
Neelormi said the impact assessment is a right initiative. "One hope is that it is done professionally," she added.
Nazma Begum, professor and chairperson of the department of economics at the University of Dhaka, said the reports presented in the gender budget are somewhat stereotypes.
"A lot has been said about the impact but there is a lack of substantial evidence."
She said increased public investment in education, health and social protection is vital for women's empowerment.
"But, we have not seen any change in the structure of social safety net schemes that benefit women more."
Bangladesh is passing through a phase of demographic dividend right now and the government should allocate more resources to reap benefits from it.
Increased allocation is necessary for skills development, Begum said, adding that only Tk 168 crore has been allocated as development budget to the women and children affairs ministry out of a total of Tk 2,140 crore.
Economic growth will not accelerate without increased participation of women in the workforce, said Sayema Haque Bidisha, associate professor of economics at the University of Dhaka.
The allocation for human development plays a role in women's empowerment, so it should be bumped up.
"Monitoring and evaluation is important. There should not be contentment with just the higher allocation. It is necessary to see whether the allocations facilitate increased participation of women in labour force and empower women more," she added.
Women's participation in labour force has decreased to 33.5 percent in 2013 from 36 percent in 2010, said Nazneen Ahmed, senior research fellow of Bangladesh Institute of Development Studies.
But it should have increased if the higher allocation is taken into consideration.
Ahmed said the government should allocate funds in line with the action plan to implement the women development policy framed earlier.
Planning Commission Member Shamsul Alam said the allocation for gender budget in terms of total allocation should be raised over the years instead of cutbacks.