Garment sector to miss export target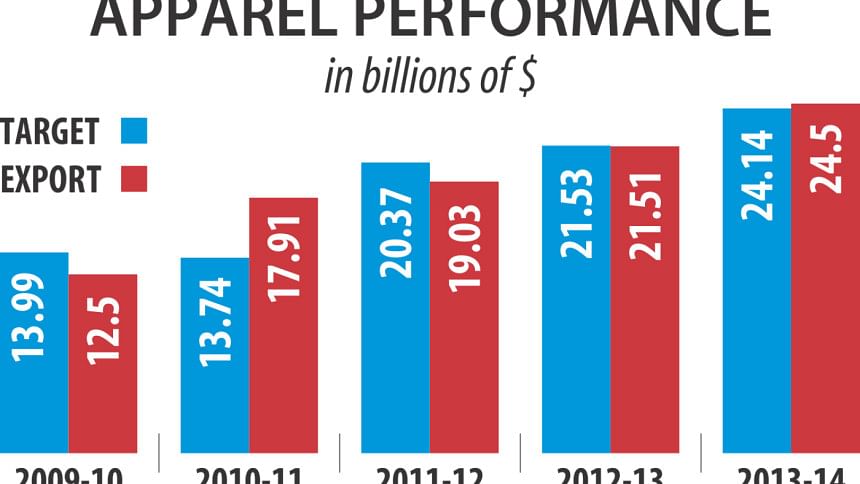 The garment sector is set to miss its export target this fiscal year after the three-month political turmoil hampered shipments.
Between July last year and May this year, garment exports raked in $22.92 billion, which is up 5.51 percent year-on-year but below the periodic target of $24.26 billion, according to data from the Export Promotion Bureau.
Now, to meet the yearly target of $26.9 billion, some $3.98 billion has to be earned this month, the closing month of fiscal 2014-15.
Atiqul Islam, president of Bangladesh Garment Manufacturers and Exporters Association, placed the blame on the political crisis.
The garment exporters could hardly send their shipments for three months from January to March, he said.
The strong performance by some competing countries such as India, Vietnam and Pakistan is another major reason for the fall, he added.
The average export growth of the three countries is nearly 10 percent.
Islam also identified some short-term challenges, including lower productivity by workers, higher cost of production and a steep fall of two major currencies -- the dollar and the euro -- against the taka.
"It's time to find out the root cause of our problems for the sustainability of the garment business and to achieve our $50 billion target by the end of 2021." The long-term challenge for the garment sector is the Trans-Pacific Partnership (TPP), a trade agreement between Australia, Brunei Darussalam, Chile, Malaysia, New Zealand, Peru, Singapore, Vietnam and the US.
The agreement is expected to take effect soon.
If the TPP is signed, Vietnam will enjoy duty benefits to the US and other prominent markets, another threat for the Bangladeshi garment items, he said.
Ahsan H Mansur, executive director of Policy Research Institute, said a lack of new investment for expansion purposes set the sector back.