Funds for Rana Plaza victims reach $30m target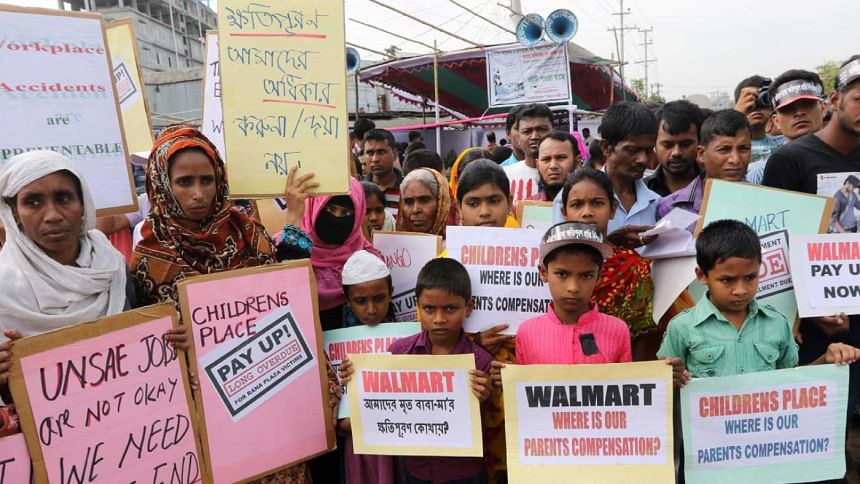 The Rana Plaza Coordination Committee yesterday said it has raised the entire amount of $30 million needed to compensate all the victims of the building collapse.
The payments will be cleared in the next few weeks, the panel, which was formed to raise and disburse the compensation, said in a statement yesterday.
The committee that represents all industry stakeholders had estimated that at least $30 million was required to ensure fair and equitable compensations for all victims.
By April 24, 2015, the second anniversary of the Rana Plaza accident, more than $27 million had been raised and the committee had paid out 70 percent of the awards promised to more than 2,800 claimants, according to the statement.
Further donations, including one significant sum pledged late last week, mean that $30 million has now been reached and all final payments can be made.
The International Labour Organisation has acted as the chair of the committee since its establishment in October 2013.
"This is a milestone but we still have important business to deal with. We must now work together to ensure that accidents can be prevented in the future, and that a robust national employment injury insurance scheme is established," Guy Ryder, ILO's director-general, said in the statement. 
The ILO supported the committee to design a coordinated arrangement for all victims of the accident based on ILO Conventions. 
In January 2014, the ILO also established the Rana Plaza Donor Trust Fund to support the committee's efforts to finance the compensation scheme.
Bangladesh does not yet have a national employment injury insurance scheme to protect victims of accidents at work although the ILO is now working with the government, employers' and workers' organisations, donors and industry partners to establish one.
In this context, the full implementation of the Rana Plaza arrangement within a two-year period represents a very significant step forward, Ryder said.