Floods cut vegetable exports by half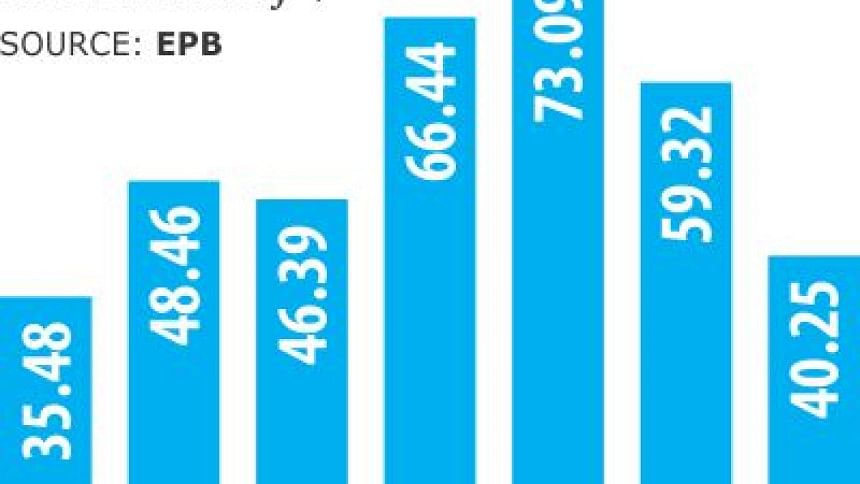 Exports of perishable goods dropped about 50 percent as floods damaged crops in most of the vegetable growing districts, exporters said yesterday.
Vegetable shipments out of the airport in Dhaka plummeted to 70-80 tonnes a day from 150-180 tonnes prior to the floods, said Mohammed Mansur, general secretary of Bangladesh Fruits, Vegetables and Allied Products Exporters' Association.
Floodwaters are preventing traders from collecting the vegetables from the fields in the major vegetable growing districts, including Manikganj, Jessore, Barisal, Bogra, Sirajganj, Savar and Munshiganj.
As of last week, crops on 1.25 lakh hectares in more than 23 districts have been inundated by floodwaters, according to the Department of Agricultural Extension or DAE. Vegetable exports have been affected since the first week of June, when floodwaters first started damaging the crops.
Moreover, the prices of vegetables doubled at the growers' level, Mansur said.
Exports of papaya, green chillies and seasonal vegetables have been hampered the most due to the floods, according to Mansur.
Bangladesh is a major supplier of vegetables and fruits worldwide; the UK and Middle Eastern nations are the major markets for vegetables from Bangladesh for its large diaspora. Bangladesh exports carrot, tomato, potato, eggplant, spinach, cauliflower, papaya, pumpkin, bottle gourd, cabbage, coriander leaves, okra, cucumber, bitter gourd, beans, jute leaves, radish, dry fish, fish and meat.
"Demand for local vegetables and fruits is high among the non-resident Bangladeshis and foreigners," Mansur said.
Foyez Ahmed, proprietor of Tahura International, a clearing and forwarding agent and exporter of perishable goods, said: "I used to send 30 tonnes of vegetables, betel leaves and other fruits a day through the Dhaka airport. But now the quantity fell to 12-13 tonnes a day."
On the screening and rescreening of perishable goods at the airport, both Mansur and Ahmed said it improved a lot after the installation of a separate screening machine at the airport.
Bangladesh cannot send cargo direct to the UK and Germany as the British government set a ban on direct cargo flights from Bangladesh for security reasons since March 8.
As a result, air cargo has to be rescreened in a third city, preferably Dubai, Doha or Bangkok, to export goods to the UK and Germany.
"Recently some international airlines have charged two cents for a kilogram to rescreen goods in a third country as their cost of operations also increased a bit," said Mansur, without mentioning which airline.
In fiscal 2015-16, Bangladesh's exports of agricultural products rose 1.71 percent year-on-year to $596 million, according to data from the Export Promotion Bureau.