Farm, manufacturing sectors need continuous support: MCCI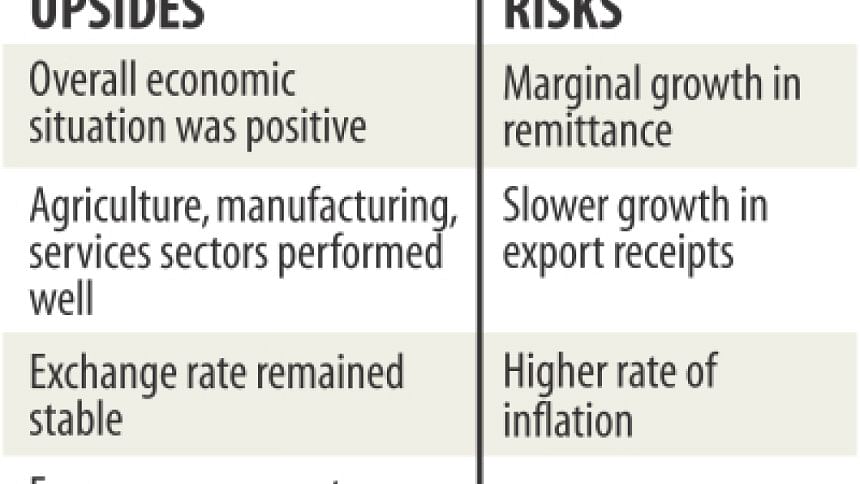 The agriculture, manufacturing and services sectors need continuous support from the government to maintain the growth momentum, said the Metropolitan Chamber of Commerce and Industry, Dhaka. 
In its economic review of the first quarter of the fiscal year, the chamber said the agriculture, manufacturing and services sectors all performed well.
"But infrastructure deficit and gas and power supply problems are now undermining the performance of all the productive sectors of the economy."
The government should take adequate steps to overcome the problems as well as attain political stability, both of which are essential for creating an investment-friendly climate that is crucial to achieving higher economic growth.
The MCCI said the overall economic situation was positive as indicated by steady improvements in the major economic indicators such as per capita income, foreign currency reserve, import and export, and foreign direct investment.
During the quarter, inflation was under control, exchange rate remained stable and foreign exchange reserves rose to a comfortable level.
"Bangladesh's economy is progressing well," the MCCI said.
However, there are some risk factors such as the marginal growth in remittance, the slower growth in export receipts and a higher rate of inflation.
The government's Seventh Five-Year Plan has outlined 7.4 percent GDP growth per year with a view to becoming a middle-income country by 2021.
"To achieve this target, it will need to significantly increase the rate of export growth, generate more investments, improve overall infrastructure, increase power and gas production, and remove all other infrastructure bottlenecks."
The chamber said it is assumed that the peaceful political situation that currently prevails would go on in the coming days.  "Therefore, export, import and remittances can be expected to increase."
The MCCI said the foreign exchange reserves would fall somewhat in November due to the payment to the Asian Clearing Union (ACU) against imports.
As of September, Bangladesh Bank's gross foreign exchange reserves stood at $32.82 billion (with ACU liability of $0.56 billion).
"The current reserves will help keep the taka stable against the US dollar and provide a more favourable economic environment."
The rate of inflation is likely to go up in October estimate because of the probable rise in the prices of some essential commodities and then the prices may go down, according to the report.
The chamber also touched upon the foreign direct investment issue, saying the inflow to Bangladesh is low compared with many countries at similar levels of economic development.
Though Bangladesh's low labour costs are generally attractive to foreign investors, they hesitate to make fresh investments because of factors such as underdeveloped infrastructure, shortage of power and energy, and lack of consistency in policy.
The government needs to address the impediments to attracting more FDI into the country in order to achieve the target of becoming a middle-income country, the report added.