Farm loan disbursement rises 2.55pc in Jul-Mar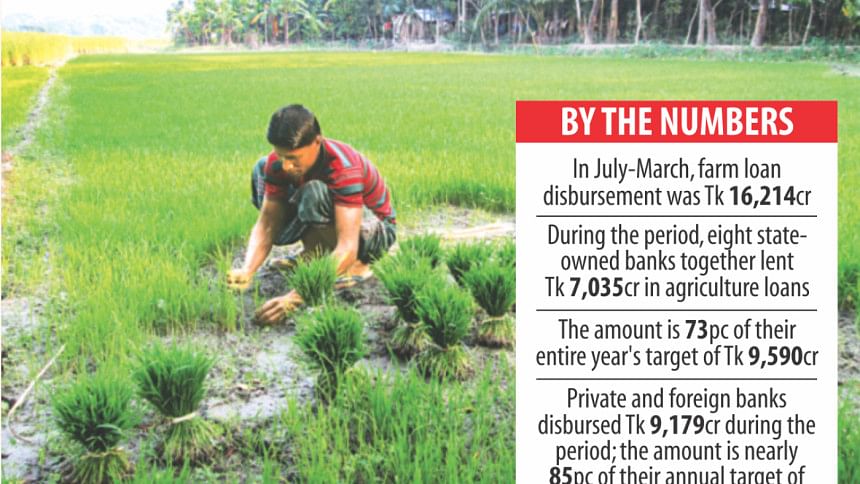 Farm loan disbursement rose 2.55 percent year-on-year to Tk 16,214 crore in the first nine months of the current fiscal year amid a sluggish demand from the industrial sector, according to central bank data.
In July-March, eight state-owned commercial and specialised banks -- Sonali, Janata, Agrani, Rupali, BASIC, Bangladesh Development, Bangladesh Krishi and Rajshahi Krishi Unnayan -- collectively lent Tk 7,035 crore in agriculture loans.
The amount is 73.36 percent of their total annual farm loan target of Tk 9,590 crore.
Private and foreign banks disbursed Tk 9,179 crore during the period, which is nearly 85 percent of their annual target of Tk 10,810 crore.
Commercial banks have long been showing interest in disbursing more farm loans amid a sluggish demand from the industrial sector, according to officials of the Bangladesh Bank.
However, farm loan disbursement could face a slowdown in the months to come.
Six to seven months ago, most banks had an excess of cash, which prompted them to channel more money to the farm sector.
The surplus liquidity in some banks, however, has dwindled significantly in the last few months because of an increase in non-performing loans.
A good number of banks, burdened with classified loans, are being forced to keep a large amount of provision that weakened their liquidity position, the BB officials said. Besides, a section of depositors has recently withdrawn funds as confidence in the banking sector waned to some extent because of rising financial scams.
The Bangladesh Associa-tion of Banks, an organisation of the owners of banks, has recently sought cooperation from the finance ministry so farm loans are disbursed on a mandatory basis.
Banks are bound to set aside 2.50 percent of their distributed loans in a fiscal year as farm loans as per a central bank instruction. 
Banks also have to disburse the farm loan at an interest rate of 9 percent, but lending rates for all credit products have risen because of cash shortages, they said.
The latest liquidity crunch has forced banks to raise the interest rates for both lending and deposits.
An official of a commercial bank, however, said that farm loan disbursement would not go down significantly because of the central bank's agriculture loan policy.