Facebook has special plans for Bangladesh
Its director says they will develop products for cheap handsets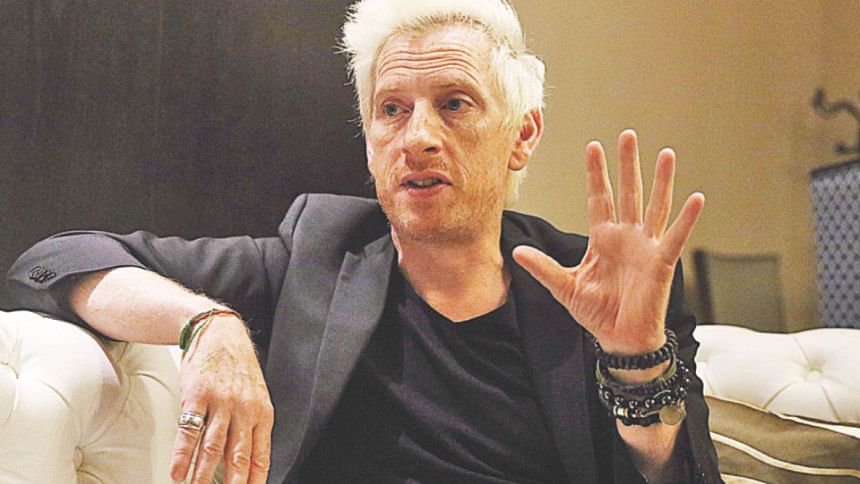 Facebook has taken up special plans for countries like Bangladesh to help flourish its business in this region, said a senior official of the social media's regional office in Singapore.
In an interview with The Daily Star recently, Fergus O'Hare, director of Facebook creative shop for Asia-Pacific region, said they are developing content that easily matches the second generation phones mostly used in Bangladesh.
"We are developing products that will be supported by the cheapest handsets, which will also be helpful for the marketing guys," said O'Hare, while attending the third edition of Digital Marketing Summit held in Dhaka.
O'Hare said, along with India and Bangladesh, this region is growing phenomenally with digital content and they are targeting the users who are active on their platform.
Around 11 crore people are connected through mobile phone in this country and the market is mature enough for voice, he said. "Now the opportunity lies in digitisation."
In Bangladesh, there are 6.33 crore active internet connections, 6 crore of whom are on mobile phones as of July. Furthermore, smartphones account for half of the mobile internet connections.
"We always try to develop products that are beyond our users' phone configuration. From Facebook, when we develop any content, we focus on the phone quality, its bandwidth use pattern as well as the users' demand."
O'Hare is known as the 'rock star' of Facebook because of his epic presentations. After working for 17 years as a writer and creative director in global advertising agencies in Paris and New York with many global accounts like Louis Vuitton, Dove, Coke, IBM, Motorola, Nestlé, Duracell and Ford, he joined Facebook two years back.
Facebook has introduced an initiative called internet.org to connect people who are using mobile phones, but not internet, to the world's largest social media site, said O'Hare.
"Sometimes, internet is costlier in different countries for different segments of people. But internet.org will connect them without any cost."
In Bangladesh, mobile operator Robi introduced this service two years back, which became popular and lots of Robi customers used the internet with this facility.
"Through this process, we are trying to connect people across the world."
Facebook is also trying to develop lighter content, which would reduce costs, said O'Hare.
Referring to the Bangladeshi market, he said people here are mostly using feature phones and Facebook is trying to develop products that people need.
He said they have more than 1.7 crore users in Bangladesh at present. "The rate of growth is faster than the birth rate of the country."
"It is an emerging market for us and we are nursing our users, but I have no information on how much Facebook earns from this segment as advertising revenue."
However, O'Hare acknowledges that there is huge demand for Facebook advertising here.
On the much debated topic of privacy, O'Hare said they have never sold any particular Facebook user's information to any advertising agency.
Describing the process, he said Facebook uses an algorithm, and if any user likes a product, then related advertising will knock that user with targeted products.
"We never read any user's inbox messages, but following the algorithm, we try to understand the user's likings and show advertisements on their wall with it."
However, if any user does not like to see any specific advertisements, they can report to Facebook and those will never be shown again. On the Bangladeshi market, his evaluation is that this market is ahead of other developing countries as it started digitisation with mobiles. But most developed countries are trying to do with desktop computers.
Here, most people have their own mobiles in their pockets and it gives the nation a huge power, added O'Hare.