Exports retain momentum
November earnings $3.06b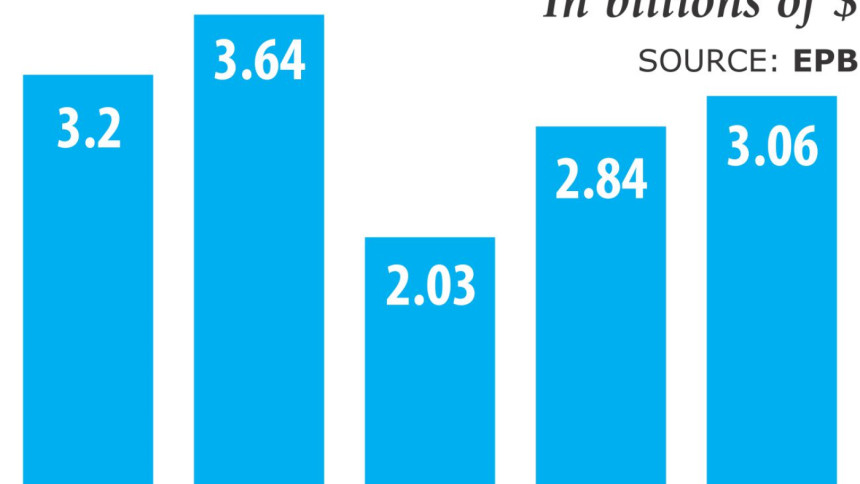 Exports retained its growth momentum in November fetching $3.06 billion on the back of higher shipments of garments, jute and jute goods, frozen fish and footwear.
Last month's receipts rose 6.22 percent compared to the same month last year when Bangladesh shipped goods worth $2.88 billion, according to the Export Promotion Bureau.  
The momentum also helped exports cross the $3-billion mark again after a gap of two months.
Compared to the previous month's earnings of $2.84 billion, exports grew 7.74 percent in November beating the target of $2.87 billion set by the commerce ministry for the month.
The total shipment in the July-November period stood at $14.56 billion, a 6.86 percent rise year-on-year. 
Garments that account for 82 percent of the total national exports logged $11.96 billion in the first five months of the fiscal year, up 7.46 percent from the same period a year ago.
Knitwear exports went up 10.86 percent year-on-year to $6.24 billion in July-November while woven garments rose 3.99 percent to $5.72 billion.
Md Siddiqur Rahman, president of Bangladesh Garment Manufacturers and Exporters Association, however, said garment shipment should grow 12-15 percent a year to hit the $50 billion export target by 2021.
Rahman put forward some suggestions to help bolster exports: offering cash incentives to exporters and improving infrastructure at Chittagong Port and Hazrat Shahjalal International Airport.
Exports of leather and leather goods, the second largest export earning sector after garments, declined 2.95 percent year-on-year to $518.15 million in the period.
Within the same category, exports of leather footwear, however, grew 8.55 percent.
Shipment of jute and jute goods, another top earner, surged 16.51 percent to $451.16 million.
Jute yarn and twine saw their earnings rise while shipment of raw jute, jute sacks and bags fell.
Export of frozen fish, live fish and shrimp increased 10.78 percent to $272.40 million, which is 32.05 percent higher than the target for the period.
Pharmaceuticals raked in $43.14 million in July-November, up 23.33 percent compared to that in the same period a year ago. Furniture shipment grew 36.54 percent to $18.87 million.
Bangladesh exported goods worth $34.66 billion in the last fiscal year and aims to earn $37.50 billion this year.
Rahman called for measures so that exporters can ship goods through direct cargo flights.