Exports keeping up with target
February saw receipts of $3.08b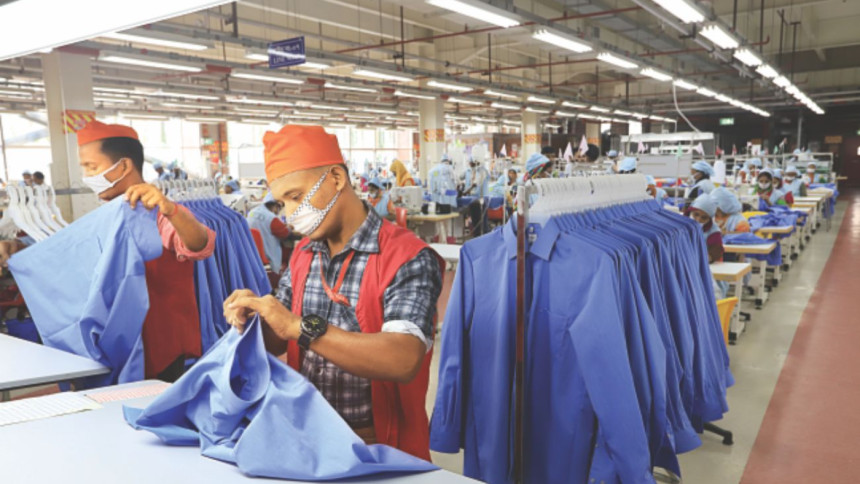 Exports fetched $3.08 billion last month, up 13.53 percent year-on-year, helped by steady shipments of garment products.
The amount, which beat the monthly target by 1.65 percent, is lesser than the previous month's by 6.94 percent, according to data from the Export Promotion Bureau.
February's receipts take the export earnings in the first eight months of the year to $24.4 billion, a 7.39 percent increase from a year earlier but it fell short of the periodic target by $4.95 million.
Garment, which typically accounts for more than 80 percent of the export receipts, brought home $2.6 billion in February, up 16.59 percent year-on-year but down 3.7 percent month-on-month.
Apparel exports are rebounding because of Western retailers' regaining confidence in the 'Made in Bangladesh' brand and a gradual shift in production towards high-value items, said Faruque Hassan, senior vice-president of the Bangladesh Garment Manufacturers and Exporters Association.
He said buyers started placing higher volumes of work orders as the local manufacturers have completed the major part of their factory remediation suggested by the Accord and Alliance experts.
Nearly 90 percent of the remediation works for ensuring structural, fire and electrical safety in the factories are done, said the entrepreneur.
"As a result, the image of the sector has brightened and the retailers have started placing bulk orders here."
Besides, Bangladesh has the highest concentration of green factories in the world. Currently, 67 such factories are in operation and 280 are under construction.
"This is a very big message. Such green initiatives have helped in winning back buyers' confidence," Hassan said.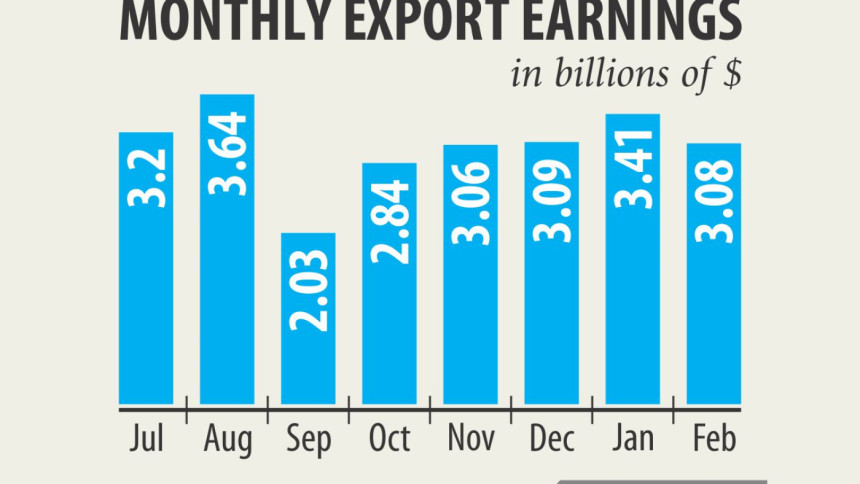 Moreover, Bangladeshi manufacturers have started to manufacture high-value garment items.
Machinery upgrade is another reason for higher production and export of goods, Hassan said, adding that shipments to new destinations like Japan and South America also increased.
"Devaluation of local currency against the greenback also helped us," the BGMEA vice-president added.
Apart from garment items, jute and jute goods performed well in the export market in the July-February period of fiscal 2017-18 as globally people are slowly abandoning the use of environmentally harmful polythene.
During the period, the sector received $741.12 million, which is an increase of 14.61 percent from a year earlier and higher than the periodic target by 7.95 percent.
However, the export of leather and leather goods, another important export earner, decreased 5.15 percent year-on-year to $784.97 million.
Frozen and live fish exports increased 15.58 percent year-on-year to $383.04 million.
Similarly, the export of agricultural products like tea, vegetables, flowers, and fruits rose 15.19 percent year-on-year to $406.20 million. Cement, salt and stone export grew 48.40 percent to $8.80 million.
The government has set the export target of $37.5 billion for this fiscal year, which is 8.19 percent higher than fiscal 2016-17's receipts.