Exports buoyant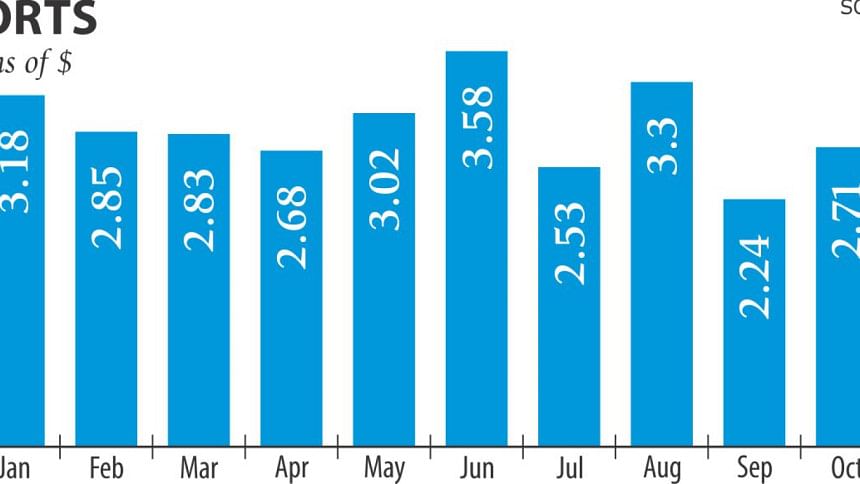 Exports rose 5.46 percent to $2.89 billion in the month of November, propelled by strong performance of apparel, leather goods, jute and jute goods and shrimp.
November's earnings beat the monthly target by $196.32 million and were higher than October's by $180 million.
Apparel, which typically accounts for 80 percent of the export earnings, brought home $2.31 billion last month, up 4.05 percent from a year earlier.
"The overall market in Europe is not that much good. Prices have declined because of a fall in the euro against the dollar and for Brexit," said Md Siddiqur Rahman, president of Bangladesh Garment Manufacturers and Exporters Association.
Also, the devaluation of currencies of neighbouring countries -- India and Pakistan -- against the dollar has also affected exporters' competitive edge in the global market, he said.
Locally, the taka has started to weaken against the dollar after remaining strong for nearly a year against the greenback. A dollar traded at Tk 79.95 yesterday, compared to Tk 78.62 a month earlier.
Rahman acknowledged the taka's depreciation but said further weakening of the local currency was necessary to boost export receipts.
Regardless, he expects the shipments to rise in the December-February period because of improved demand abroad.
Overall, Bangladesh fetched $13.69 billion in the first five months of fiscal 2016-17, up 6.30 percent year-on-year but lower than the periodic target of $14.29 billion. The export target for the fiscal year is $37 billion.
Apart from garments, export of leather, leather products and footwear, the second biggest export earning sector, grew 16.62 percent to $533 million year-on-year during the July-November period.
"Buyers are importing in advance ahead of Christmas holidays," said Shaheen Ahmed, chairman of the Bangladesh Tanners Association.
Exports of leather goods and leather footwear continued to remain buoyant.
Shipment of leather footwear, the main driver in the leather sector, increased 15.14 percent to $232.89 million during the period.
Earnings from jute and jute goods, the third major export earner, picked up during the period too.
Raw jute shippers registered 17.78 percent growth to $86 million in the first five months of fiscal 2016-17.
A spike in demand from Pakistan fuelled export earnings from the golden fibre, said an industry insider.
Frozen and live fish, mainly shrimp, exporters fetched $245 million in July-November period of the fiscal year, up 7.16 percent year-on-year.