Eliminate barriers to trade with India
CPD calls for an agreement so that Bangladesh and India accept each other's standardisation certification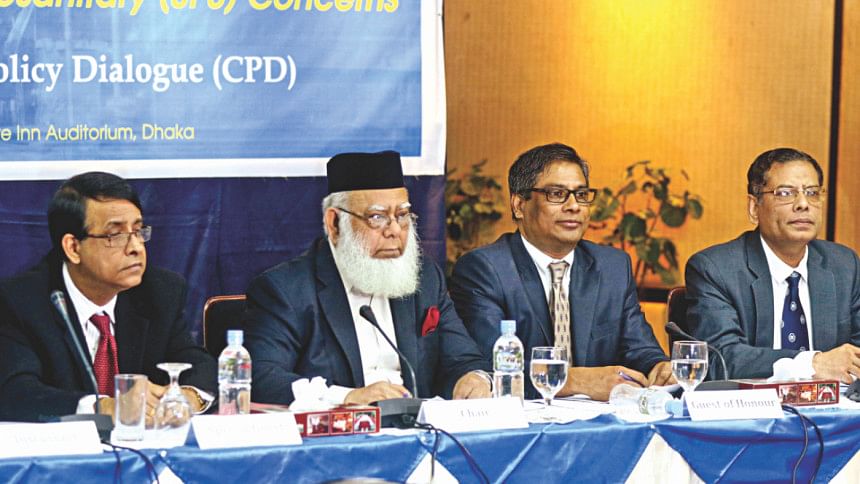 Bangladesh should sign a bilateral agreement on sanitary and phytosanitary (SPS) measures with India so that the countries accept each other's standardisation certification, the Centre for Policy Dialogue said yesterday.
The call came as the South Asian economic giant has become a major market of Bangladeshi agricultural products.
SPS measures deal with food safety and animal and plant health. They aim to ensure that a country's consumers are being supplied with food that is safe to eat -- by acceptable standards -- while also ensuring that strict health and safety regulations are not being used as an excuse to shield domestic producers from competition.   
"I think Bangladesh has a lot of opportunities to export agri-products to India. The government can sign a bilateral agreement with India for resolving the SPS problems," said Mustafizur Rahman, executive director of the CPD.
He called for signing the agreement as the South Asian Regional Standards Organisation (SARSO), a common certification panel for the Saarc region, is yet to be fully effective though it started journey in April 2014.
Of Bangladesh's total exports to India, 20 percent are garments and the rest are others, especially agri-products, he said.
"We should deepen trade relations with India to exploit the trade opportunity in the agriculture sector," he said.
At the same time, the government should improve the capacity of Bangladesh Standards and Testing Institution (BSTI), Rahman said.
He was speaking at a seminar on "non-tariff barriers in Bangladesh-India trade: addressing SPS issues and concerns" at Brac Centre Inn in Dhaka. Mahbubur Rahman, president of International Chamber of Commerce- Bangladesh, chaired the event.
"We were supposed to be the best friend of India for having commonalities in culture, lifestyle and food habit, but unfortunately we are not," said M Anis Ud Dowla, chairman of ACI Ltd, a local company that has business with India.
He said seed export to India requires quarantine test, which is done in India, and Bangladeshi exporters need to wait for four weeks to receive certificates. "By this time the season ends and Bangladesh cannot export seeds to India."
He said both the governments should sit together to resolve the certification issues politically.
Syed Humayun Kabir, director general of SARSO, said common standards for two items -- biscuit and refined sugar -- have been set so far for all Saarc nations. "Thirty more items are in the process for getting common standards," Kabir said.
Sometimes trade barriers arise due to a lack of awareness of rules and regulations, said Mostafa Abid Khan, director of Bangladesh Foreign Trade Institute.
Zillul Hye Razi, trade adviser to the European Union delegation in Bangladesh, said a lack of managerial capacity often leads to such barriers.
Tanveer Islam, general manager (export) of Pran Group, which has been facing SPS-related problems for exporting its products to India, said Bangladeshi exporters need to wait for approvals from the Central Food Laboratory (CFL) of India.
India has specific packaging requirements, which is another barrier, he said, adding that all food samples need to be sent to Kolkata as CFL facilities are not available near all land ports.
Khaleda Akhter, senior research associate of the CPD, said bilateral trade between Bangladesh and India has been on the rise. Bangladesh's exports to India increased to $456 million in fiscal 2013-14 from $144 million in 2004-05.
Bangladesh imports goods worth $6 billion from India through formal channels each year.
"It is interesting to note that the share of non-apparel items is significantly higher than that of garment products in Bangladesh's exports to India," she said in a keynote.
Farooq Ahmed, secretary general of Metropolitan Chamber of Commerce and Industry, Amitava Chakraborty, director general of the WTO cell of the commerce ministry, and Humayun Rashid, acting president of Dhaka Chamber of Commerce and Industry, also spoke.