UK envoy visits Unilever-UNDP's plastic waste management site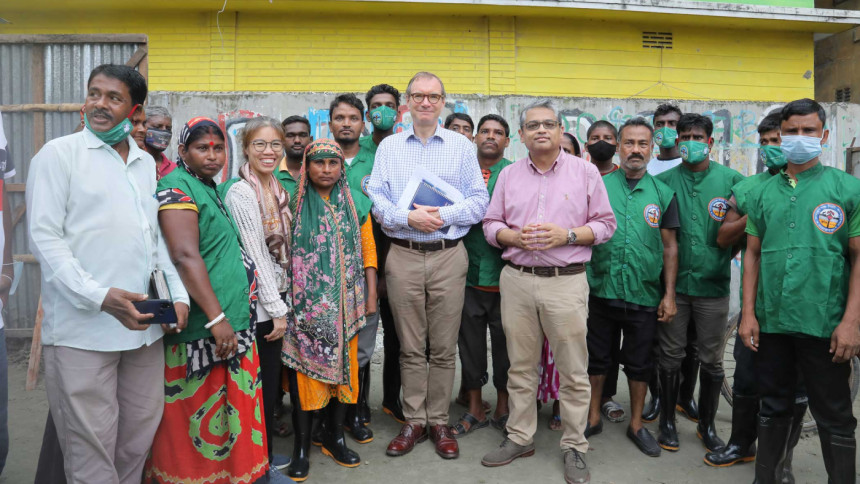 Unilever Bangladesh and UNDP Bangladesh in partnership with Narayanganj City Corporation have run a sustainable plastic waste management project in the major cities of Bangladesh, focusing on the management of wastage that poses a complex set of challenges in an urban backdrop.
Robert Chatterton Dickson, British high commissioner to Bangladesh, recently paid a visit to Unilever's Plastic Waste Management Project site and observed the daily plastic collection process in Narayanganj, a press release said.
"It has been wonderful to see Unilever, Narayanganj City Corporation, UNDP and the British High Commission working together in the Plastic Waste Management project. We must continue to collaborate to create opportunities for plastic management in the city," said Dickson.
"We believe our collective action will inspire industries and the government to achieve Bangladesh's Green Growth Strategy and the SDG targets," said Zaved Akhtar, chief executive officer of Unilever Bangladesh.
Sudipto Mukerjee, resident representative of UNDP, said plastic pollution has reached alarming levels across the globe and be it on land or in waterways, the situation in Bangladesh is dire.
Salina Hayat Ivy, mayor of Narayanganj City Corporation, Nguyen Thi Ngoc Van, deputy resident representative of UNDP, Sarder M Asaduzzaman, assistant resident representative, head of programme management and partnership support unit at UNDP Bangladesh, and Shahidul Islam, chief executive officer of NCC, were present.