Soybean oil now Tk 153 a litre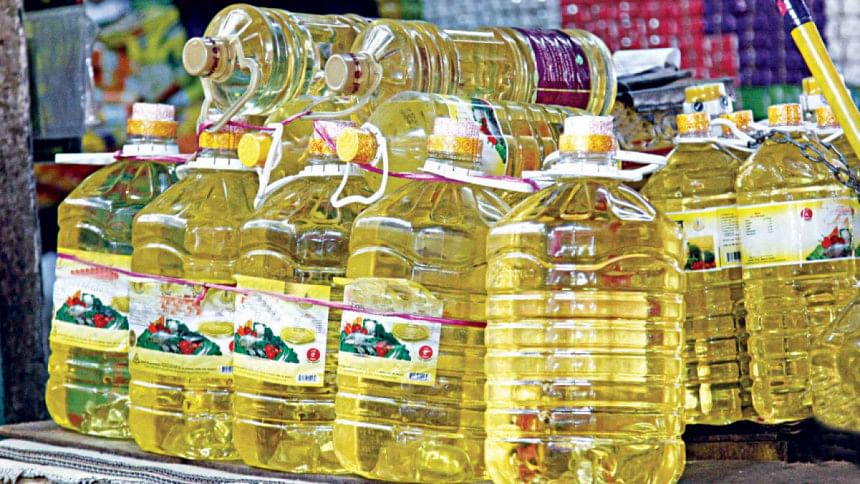 The price of every litre of edible oil was increased by Tk 4, or 2.6 per cent, yesterday, meaning a one-litre bottle of soybean oil will now cost Tk 153.
The price was decided upon at a meeting between the Bangladesh Vegetable Oil Refiners and Vanaspati Manufacturers Association and the commerce ministry officials. Meanwhile, retail prices of loose soybean oil and loose palm oil have been set at Tk 129 and Tk 116 per litre respectively while of five-litre bottles at Tk 728.
Biswajit Saha, director for corporate and regulatory affairs at City Group, said the new prices came into effect yesterday.
He also said refiners would later sit with representatives of the ministry and the Bangladesh Trade and Tariff Commission to readjust the prices, considering the fact that the international market was volatile.
Earlier on May 27, refiners had increased the price of edible oil by Tk 9 per litre, taking the price of bottled soybean oil to Tk 153 per litre from Tk 144.
But in July, they reduced the price by Tk 4 per litre to Tk 149 taking into consideration the squeeze on purchasing capacity of consumers ahead of Eid-ul-Azha amidst the ongoing Covid-19 pandemic.
In a press release issued yesterday, the refiners' association said prices of the key cooking ingredient recently increased in international markets, prompting the same locally.
In the last one year, edible oil prices have increased by around 160 per cent in the international market, it said, adding that oil prices have increased by 35 per cent to 40 per cent in the local market as a result.