Six cattle markets to accept digital payments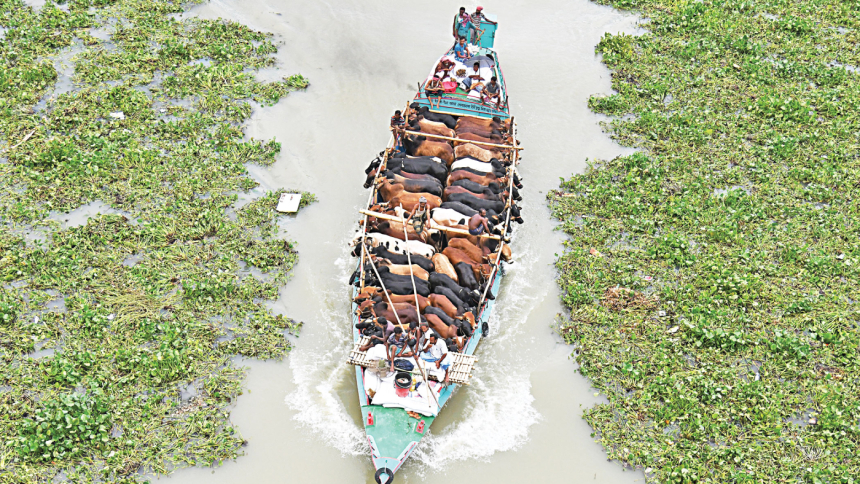 People in Bangladesh are yet to make a habit of buying cattle online for Eid-ul-Azha as trips to the market, where they can choose and haggle over their preferred animal, are a part of the festivities.
However, carrying large volumes of cash to and from cattle markets has always been a cumbersome and risky task for both traders and customers.
To give them respite, Bangladesh Bank is facilitating a digital payment system this year so that customers can physically visit cattle markets and buy their desired animal through electronic transactions.
Initially, the digital payment system will be introduced only at cattle markets in Dhaka so that customers in the capital can make payments through their bank's credit, debit or prepaid card, according to a central bank official.
In addition, payments through mobile financial service provider bKash will also be accepted.
Six commercial banks -- Bank Asia, Brac Bank, Eastern Bank, Islami Bank Bangladesh, Mutual Trust Bank, The City Bank -- will facilitate these services at six cattle markets in Dhaka, namely those in the Gabtoli, Bosila, Aftabnagar, Bhatara, Uttara and Kawla areas.
However, only one bank will be present at each market. For example, Brac Bank is setting up a digital booth at the Uttara cattle market.
"We are doing this on a pilot basis but if it becomes successful, we will launch it full-scale from next year," he said.
The Bangladesh Bank official then informed that the pilot project is called "Smart Bangladesh, Smart Hut".
Cattle traders are often targeted by thieves as they usually leave the markets with hefty sums while even sending the money through traditional courier services incur heavy charges.
"So, we want to bring them under the banking network," he added.
Besides, traders will have the scope to open an account instantly as various banks will set up temporary booths at the cattle markets. Agent banking booths will also be present so that small traders can immediately deposit their money into an account even if they accepted cash from customers.
 "This will bring many cattle traders under the banking channel so they can receive payments securely," said Selim RF Hussain, managing director and chief executive officer of Brac Bank.
 "This will propel the country's ambition of a cashless society," he added.
Ali Ahmmed, chief commercial officer of bKash, said the leading mobile financial service provider is working relentlessly to create a payment ecosystem through which customers at cattle markets will be able to make all necessary payments through their bKash account without any extra cost.
"At the same time, cattle traders will be able to receive payments in their merchant accounts in a secured way, avoiding all the risks of carrying cash or receiving fake notes," he said.
"The leasing authority of the cattle market will also be able to get the money in their bKash merchant account and that money can be transferred directly to their bank accounts," Ahmmed added.
According to the central bank official, international payment networks MasterCard and Visa are also cooperating in this regard.
"Physically going to buy sacrificial animals is a festivity for Bangladeshis and so, we are extremely delighted as Bangladesh Bank with the support of Dhaka North City Corporation is introducing digital payments at six cattle markets in the capital," said Syed Mohammad Kamal, country manager of Mastercard.
Considering the sheer volume of transactions that takes place centring Eid-ul-Adha each year, it was only a matter of time before digital payment modes were made available in cattle markets.
"I am quite optimistic about the pilot project as it will provide crucial insights to enhance and expand the availability of digital payments in more cattle markets. So, Mastercard is a proud partner of this excellent initiative," he added.
The Ministry of Fisheries and Livestock and the Bangladesh Dairy Farmers Association also assisted in launching the pilot project.
About 9,093,242 cattle were sacrificed across the country last year, as per data from the Ministry of Fisheries and Livestock. Of this amount, about 387,579 cattle were sold online.
This year, about 20 makeshift cattle markets will be set up in Dhaka.