Munshi inaugurates ICCB's new office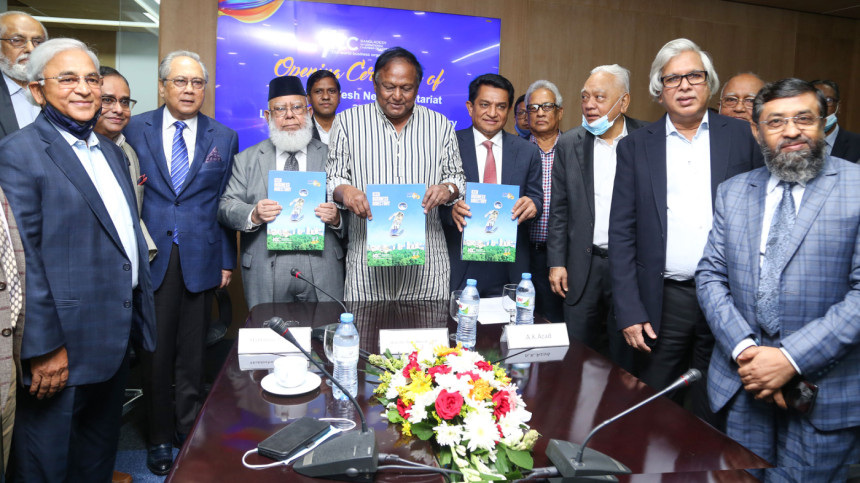 Commerce Minister Tipu Munshi yesterday inaugurated the national committee secretariat of the International Chamber of Commerce Bangladesh (ICCB) in Gulshan, Dhaka.
Munshi said he hopes that the business community will continue to work together with the public sector to fulfil the vision of Prime Minister Sheikh Hasina to make Bangladesh a developed country by 2041.
He also appreciated the role local industries play in Bangladesh's overall development and making it the fastest growing economy in the world.
Munshi congratulated ICCB President Mahbubur Rahman on their new office and expressed his optimism that the organisation will continue to play a positive role for further economic development.
He later launched the ICCB Business Directory, which contains basic information about Bangladesh, including details on its trade, investment and foreign direct investment levels.
ICCB started its journey in a small office located on the premises of the Dhaka Chamber of Commerce and Industry with 17 members.
"Now, ICCB has 10 commerce chambers and business associations under various organisational categories and 128 members under corporate categories comprising 31 commercial banks, seven non-bank financial institutions, 10 insurance companies, five law firms, 56 national companies and 19 transnational companies," said ICCB President Rahman while acknowledging the contributions of  ICCB's Founding Vice-President Late Latifur Rahman, as well as current Vice-President AK Azad, and others.
ICCB Vice-President Azad recalled the role played by his predecessor in continuously guiding and supporting ICCB in carrying out its various activities since the National Secretariat was set up in 1994.
Syed Manzur Elahi, chairman of Apex Group; Anisul Islam Mahmud, former minister for foreign affairs, Monzurur Rahman, chairman of Pubali Bank; Md Abdul Karim, chairman of IPDC; Salahuddin Kasem Khan, director of AK Khan & Company Ltd; Abdul Hai Sarker; ASM Quasem; Aftab ul Islam; Anwar-Ul-Alam Chowdhury (Parvez); Faruque Hassan; Kutubuddin Ahmed; Mahbubul Alam; Md Fazlul Hoque; Mir Nasir Hossain; Mohammad Hatem; Simeen Rahman and Tapan Chowdhury, executive board members of ICCB; were present at the event.