Districts in focus
Jute prices bring cheer to Faridpur farmers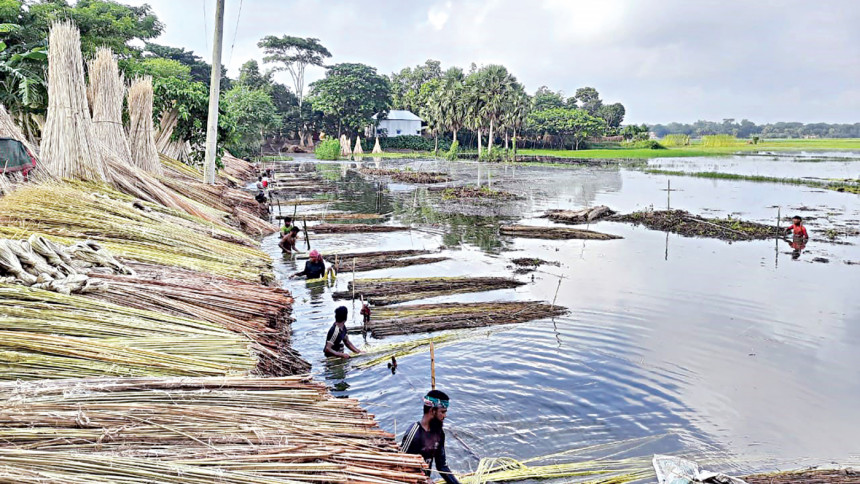 Jute growers in Faridpur are overjoyed by the good prices for raw jute currently being offered in the local markets.
According to the Department of Agricultural Extension (DAE) in Faridpur, a total of 85,077 hectares of land were brought under jute cultivation across nine upazilas in the district this year.
More than 80 per cent of the jute has already been harvested, DAE officials said, adding that they expect a total of about 1.87 lakh tonnes of raw jute to be produced this year.
Raw jute is currently being sold at Tk 2,800 to Tk 3,000 per maund in the local markets.
Farmers in the region say they are very happy with the bumper production.
An average of 15 maunds of jute is produced from each bigha.
Imarat Matabbar, a jute grower in Baliadangi village under Saltha upazila, said he cultivated jute on three bighas of land at the cost of Tk 1 lakh.
"I got 38 maunds of raw jute. I sold 2.5 maunds of jute at Tk 2,900 per maund two days ago," he added.
Tauhid Khan, another jute grower of Ramkantopur village of Saltha upazila, cultivated jute on 2.5 bighas of land.
"I have already harvested 15 maunds from one bigha of land. I have sold six maunds of jute in the local market at Tk 3,000 while it was Tk 2,300 in the same period last year," he added.
The demand for jute is more than the supply in local markets. So, farmers are storing up jute to get better prices. The price of the natural fibre rose to Tk 6,000 per maund last season, Khan said.
Brindabon Mandal, a jute grower in Boutipara area under Nagarkanda upazila, said he collected 40 maunds of jute this year.
"I have sold seven maunds of it so far for Tk 2,600 per maund. I also sold another 10 maunds at Tk 3,000 per maund just two days ago. I have stored the rest to get better prices," Mandal said.
Md Khokon Matubbar, a trader in the Kanaipur jute market, said there were some rich farmers who bought jute from different villages to get more profit.
Hazrat Ali, deputy director of the DAE in Faridpur, said there was a bumper production of jute this year due to favourable weather conditions.
"Farmers have got good prices. The higher prices will encourage them to cultivate more jute," he said.
Ali added that even some ordinary people were buying jute to make a profit considering last year's prices.