IT knowledge, infrastructure key to Smart Bangladesh
Experts say at ICAB conference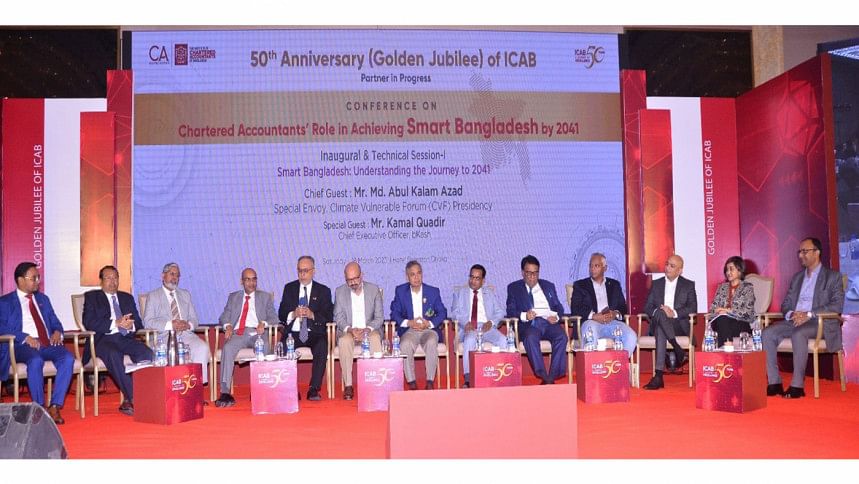 The government needs to emphasise on digital education, upskilling youths with IT knowledge and developing IT infrastructure in order to achieve its "Smart Bangladesh" initiative, according to experts.
They also recommended setting up technical schools, establishing more industries with export potential, digitising tax administration, increasing exports and remittance to this end.
These comments came at a conference on "Chartered Accountants' Role in Achieving Smart Bangladesh by 2041", organised by the Institute of Chartered Accountants of Bangladesh (ICAB) at Sheraton Dhaka yesterday.
They also demanded float bonds for large-scale infrastructure projects so that pressure on the country's foreign exchange reserves for financing development activities does not affect private sector growth.
Bikarna Kumar Ghosh, former managing director of the Bangladesh Hi-tech Park Authority, presented a keynote at the conference.
He said the government has taken a mega plan to build a nationwide Hi-Tech Infrastructure Network, which includes setting up hi-tech cites, software technology parks, IT incubators and training centres across the country.
The domestic e-commerce market is currently worth around $3.1 billion and is expected to have 80 per cent growth by 2025.
The government is planning for a smart and green economy by 2071, when the existence of pollution and other environmental threats to the economy will come into a very tolerable limit, Ghosh added.
Naser Ezaz Bijoy, chief executive officer of Standard Chartered Bank Bangladesh, presented a keynote paper on "Smart Bangladesh, Achieving a Trillion-Dollar Plus Economy".
He said decision makers should have commitments to a sustainability strategy optimising the risks that are appropriate to the industry.
They should prioritise investments in sustainable assets that create value for shareholders and customers and improve long-term cost efficiency by designing processes which flag environmental, social, and corporate governance risks as early as possible.
Bijoy said regulators should behave actively on the increased cost of compliance and erosion of shareholder value and advocate modernisation of acts like the Companies Act 1994 and Import and Exports Control Act 1950 to ensure smart governance and improve the ease of doing business.
Md Abul Kalam Azad, special envoy of the CVF presidency of Bangladesh; Kamal Quadir, CEO of bKash, Md Moniruzzaman, president of ICAB; MBM Lutful Hadee, vice-president, and Shubashish Bose, CEO, also spoke.
The session was moderated by Md Humayun Kabir, chairman of ICAB 50th Anniversary (Golden Jubilee) Celebration Committee.
The government set a goal to develop a smart government, smart citizens. smart economy and smart society to realise a Smart Bangladesh by 2041 so that the country achieves inclusive growth.
Speakers said Smart Bangladesh is a holistic concept and hence it will be myopic to define it only within digital space.
Apart from the four goals, there are many other underlying factors in each of these four components that require extensive input and chartered accountants could play an enabling role to support the government in achieving its target.
Various policy reforms need to take place to facilitate the journey towards achieving the Trillion Dollar plus GDP target, they added.
Reforms are needed in areas of taxation, foreign direct investment, education, cybersecurity, data sharing, export diversification, and simplification of government processes, the experts suggested.