Incentivising internal migration can better calorie intake
Finds research of Yale professor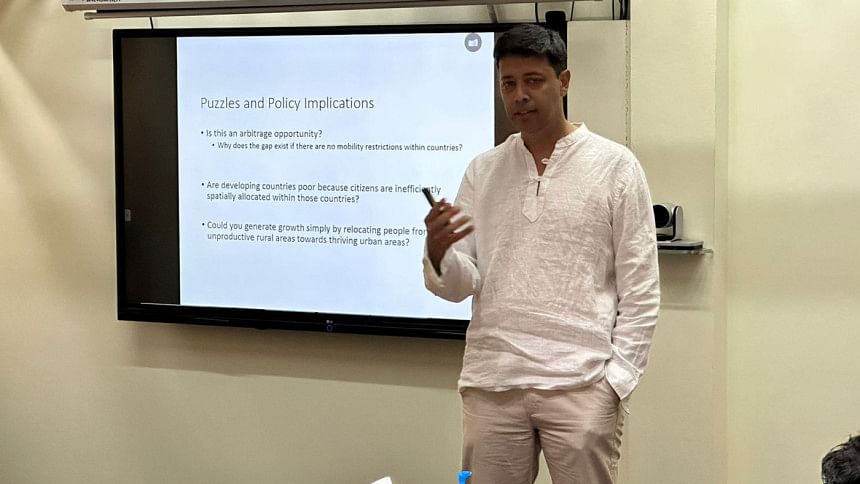 A research experiment on providing temporary migration loans in Bangladesh saw a 22 percentage point rise in such movements from the rate of households already prone to adopting this mode of income. 
Moreover, the migration rate remained 10 percentage points higher after three years while daily food consumption increased by 600 calories per person per day.
The study was conducted selecting 19 landless households from each of 100 villages of Kurigram and Lalmonirhat districts in Rangpur division between 2008 and 2011 by Mushfiq Mobarak, a professor of management and economics at Yale University.
His profile states that he conducts field experiments exploring ways to induce people in developing countries to adopt technologies or behaviours that are likely to induce welfare and examines the complexities of scaling up development interventions proven effective in these trials.
He is said to have ongoing research projects in Bangladesh, Nepal and Sierra Leone.
Mobarak was addressing a seminar on "Seasonal Poverty and Migration: A research agenda in Bangladesh and Nepal" organised by BRAC University on its premises yesterday when the university's acting vice-chancellor, Prof Syed Mahfuzul Aziz, was present.
Work is seasonal in rural agrarian areas in northern Bangladesh and the rural-urban wage gap and gap in hours increase during certain months in the crop cycle, which can take an extreme form of seasonal hunger and unemployment, said Mobarak.
Between August and November and then February to April, households experience a lean period waiting for harvests, when they restrict the portion size or number of meals, he said.
Hundreds of people suffer the seasonal poverty of acute deprivation often associated with the pre-harvest lean season, he added.
This seasonal deprivation is harmful as missed meals, reduced portions and a lack of diet diversity and protein lead to malnourished children and undermines their physical and cognitive development, said Mobarak.
Moreover, desperate measures to address hunger have long-run adverse effects such as lower agricultural productivity and poverty traps due to high-interest borrowing, he said.
This leads to the puzzles of policy implications on whether to create job opportunities such as food for work programmes in rural areas during lean seasons or to invest in better transport connectivity between rural and urban areas, he said.
Still, people opt out of migrating for the associated costs in making the journey, income risks in urban areas and urban problems such as pollution, said Mobarak.
Moreover, there are non-monetary costs of migration such as the psychological effects of staying away from families alongside rural amenities such as readily available assistance and rural support programmes, he said.